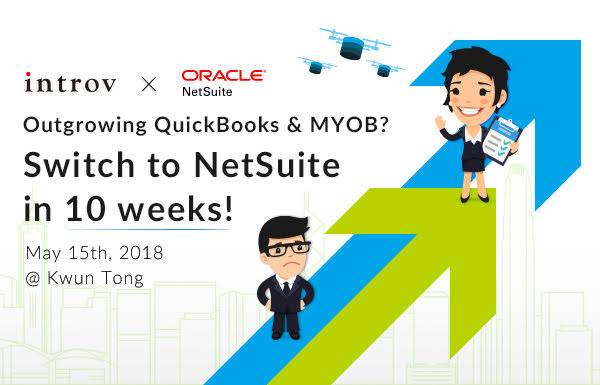 – Are you currently using Excel spreadsheets?
– Are you running your business on three or more systems?
– Are you looking to expand your business in the near future?
Sign up for our "Quick Success" workshop to see how the world's top business management tool can make ordering, purchasing, invoicing, and reporting in real time. And how our experts can help you to streamline your business operation in just 10 weeks!
Join Us
Time : 13:45 – 16:00
Date : May 15th, 2018
Location : Unit 2308-10, 23/F, Paul Y. Centre, 51 Hung To Road, Kwun Tong
Agenda
13:45 – 14:00    Registration
14:00 – 14:10   Welcome & Introduction
14:10 – 14:30    Cloud and ERP
14:30 – 14:40    How Quick Success can help
14:40 – 15:10    Live Demonstration
15:10 – 15:40    Users in the driver's seat
15.40 – 16:00    Q&A
Join us on May 15. Spaces are limited, so please reserve your spot today.
* Note: The session will be conducted in English.
Agenda subject to change.
SIGN UP Sorry, this event has expired. Please check out our events page for upcoming events.
Should you have any enquiries, please feel free to contact Helen Tam at +852 3616 6567 or email her at helen.tam@introv.com.