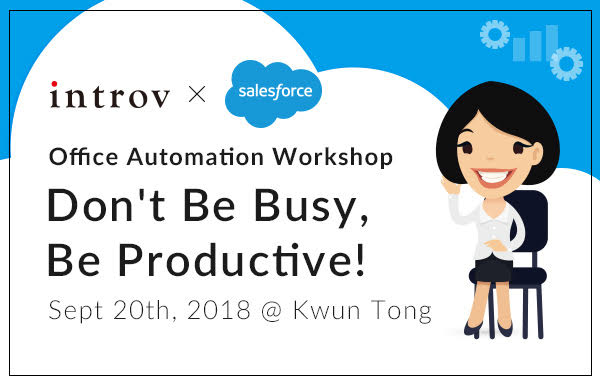 Overwhelmed with busy work and failed to be productive? This is when your team lacks visibility, tasks aren't in line with business goals, and your team members are burnt out.
No, don't be busy. Be productive!
Office Automation tools help automate workflows, administrative tasks, data management and report generation. The tools lower production and labour costs, and minimise the risk of man-made errors, while providing higher visibility on internal processes. By eliminating a lot of frustration associated with carrying out manual and redundant tasks, office automation allows your staff to focus on value-added tasks, generating greater potentials for the company.
Join our workshop to learn more about how you can modernise the workplace and unlock your workforce productivity potentials.
Join Us
Time : 13.45 – 15.30
Date : Sept 20th, 2018
Location : Kwun Tong
Agenda
13.45 – 14.00 Registration
14.00 – 14.15 Welcome & Introduction
14.15 – 14.40 Reshaping a Productive Workplace with Office Automation
14.40 – 15.10 Live Demonstration on Salesforce APP Cloud and Workflow Engine
15.10 – 15.30 Q&A
Spaces are limited. Reserve your spot today.
*Note: This seminar will be conducted in Cantonese.
Agenda subject to change
LOCATION
SIGN UP Should you have any enquiries, please feel free to contact Helen Tam at +852 3616 6567 or email her at helen.tam@introv.com.
* These fields are required.