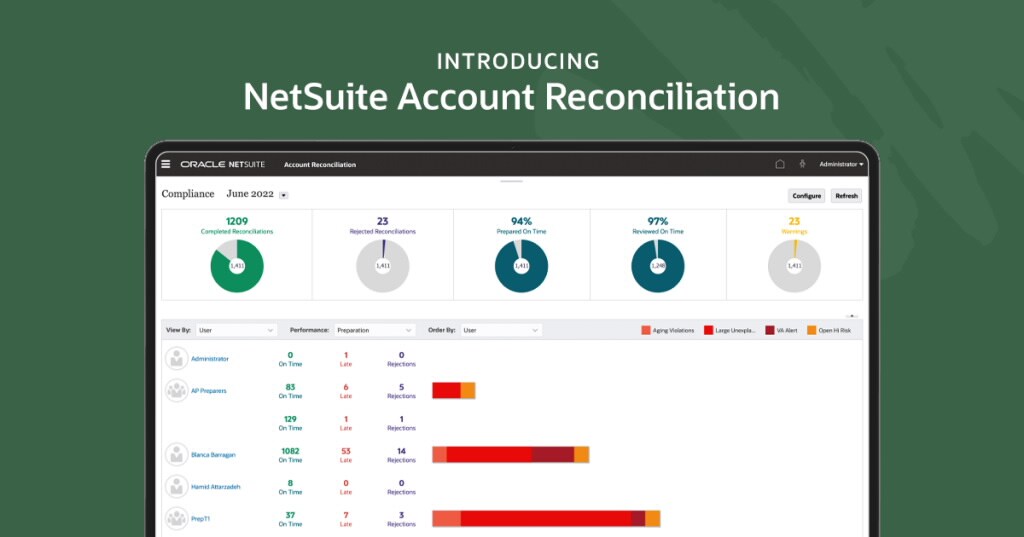 New solution leverages Oracle technology to help improve the accuracy of financial statements and enable a faster close.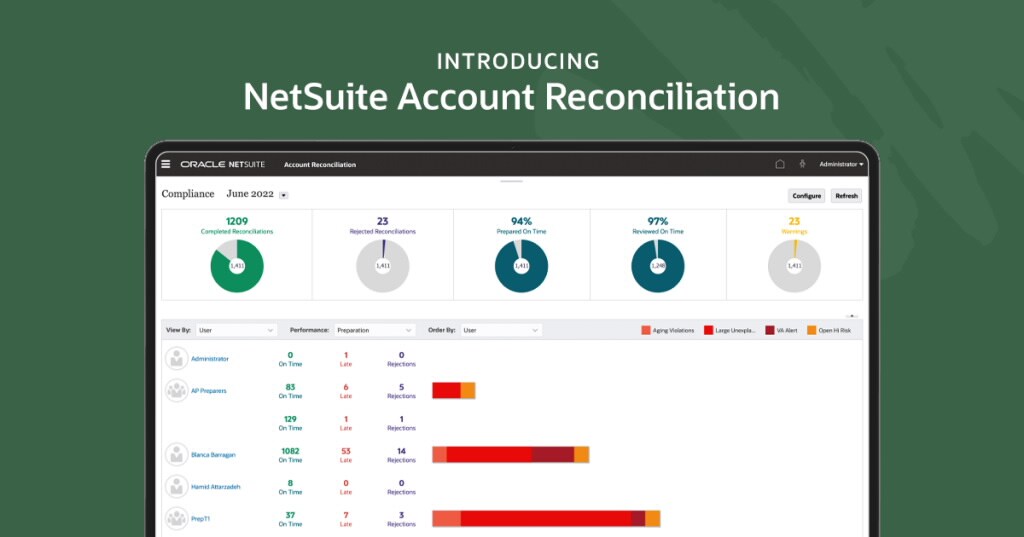 To help organizations streamline the complex process of reconciling balance sheet accounts, Oracle NetSuite announced NetSuite Account Reconciliation. As part of NetSuite's cloud ERP suite, NetSuite Account Reconciliation helps customers standardize and automate the reconciliation process, strengthen internal financial controls, produce more accurate financial statements, and drive a faster close.
"The general ledger reconciliation process can be one of the most complicated aspects of the financial close and a compliance risk," said Gary Wiessinger, senior vice president, NetSuite Application Development, Oracle NetSuite. "Similar to how we are leveraging Oracle technology to deliver NetSuite Analytics Warehouse and NetSuite Planning and Budgeting, NetSuite Account Reconciliation brings enterprise-grade technology to our customers to simplify a critical process. This solution extends the capabilities of our suite to help customers increase efficiency, ensure the completeness and accuracy of their financial statements, and gain more value from NetSuite."
Built on Oracle Fusion Cloud Enterprise Performance Management (EPM), NetSuite Account Reconciliation is the latest addition to NetSuite's integrated suite of cloud applications. The new solution automates the reconciliation process for accounts payable, accounts receivable, bank and credit card transactions, prepaid accounts, accruals and fixed assets accounts, intercompany transactions, and other balance sheet accounts. NetSuite Account Reconciliation helps organizations:
Automate and Standardize the Reconciliation Processes: The new solution streamlines spreadsheet-heavy, manual close processes across all accounting and finance functions. It provides instant visibility into the reconciliation process so that organizations can focus time and resources on analysis, risk mitigation, and exception handling.
Enhance Internal Controls and Compliance: The new solution ensures reconciliations are not missed or lost and that all the information is in the right place for global auditability. For example, organizations can receive notifications to help keep their teams on track and audit ready.
Improve the Accuracy of Financial Statements and Speed of Close Cycles: The new solution removes inconsistencies and risk from balance sheet substantiation for period close and quarterly and annual audit purposes. For example, organizations can use dashboards to see the real-time status of reconciliations and variance details.
"Rayburn Electric Cooperative is a non-profit generation and transmission utility that provides adequate, reliable, and affordable wholesale electric energy to four Distribution Cooperatives serving rural communities in North Texas. To maintain competitive costs for power and help maximize the value of our members' investment, we needed a system that could help make our financial operations more efficient and require less manual intervention and review," said Stephanie Hunt, corporate controller at Rayburn Electric Cooperative. "With NetSuite Account Reconciliation, we will no longer have to do manual balance sheet recons in Excel which often cause delays, errors and headaches in our close process. By having a real-time and accurate view of our financial position, we will be able to empower our team to be more productive and focus on value-adding activities for our members and communities."
To further streamline and simplify account reconciliation processes, NetSuite Account Reconciliation provides one place to manage and view the period and reconciliation status and details of each account with balance comparisons and explanations, preparers, reviewers, and sign-off dates. This helps organizations automate and expedite comparing the general ledger, bank records, and other data and also accelerates the investigation of discrepancies. NetSuite Account Reconciliation provides:
Seamless Integration: NetSuite ERP and NetSuite Account Reconciliation are seamlessly integrated. This enables accounting teams to quickly and securely access NetSuite general ledger data and easily address any items needing to be reconciled. As a result, users spend less time entering transaction information and more time analyzing data and providing insights to drive faster, better decisions.
Prebuilt Reconciliation Templates and Formats: 20 prebuilt templates and formats help accounting teams accelerate the reconciliation process and improve consistency to increase the accuracy of financial reporting.
Powerful Transaction Matching Engine: Helps accounting teams to automatically match millions of transactions in minutes. This helps reduce time and errors and by directly integrating with period-end reconciliations, it also enables a faster financial close.

Secure Document Repository

: 

Helps organizations address compliance and facilitates global audits by safeguarding reconciliations from any alterations or loss.
Get in touch with us now. Let us listen to your pain points and we will design the best system for you to grow your business.
Source: Oracle Netsuite