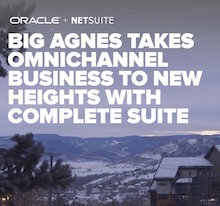 Omnichannel retailing is a modern approach to commerce nowadays. It is a multichannel approach to sales that seeks to provide a personalised and seamless shopping experience to customers​​, whether they are ​​shopping in retail shop, online, or through any other channels.
With NetSuite running the key aspects of business including ERP, CRM, inventory and order management, Big Agnes, a manufacturer of high-end camping gear and apparel, experiencing the power of a single, unified cloud-based platform. However, their home-grown ecommerce system remained siloed from their NetSuite back-end which inhibited the company's vision of showcasing their brand story and connecting with their customers online.
Check out this article  to see how Big Agnes take their Omnichannel business to the next level with complete suite.
Introv offer a range of comprehensive business solutions for organisations of all sizes, in a variety of industries. Let us transform your business and take it to the next level. Enquiries: (886) 2 7751 5298 | enquiries@introv.com
Source: Oracle NetSuite