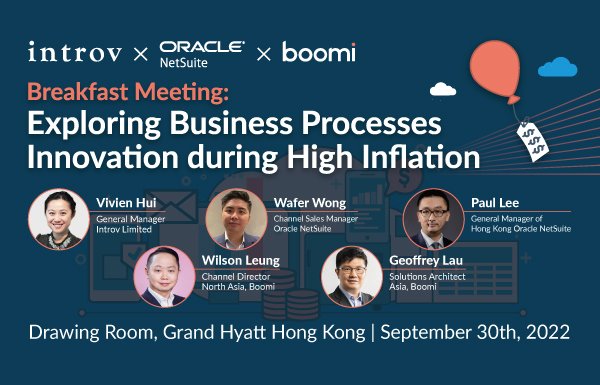 By Invitation Only
Inflation rate is almost double the last year. Does it matter to your organization and your business?
With this high inflation trend and global expansion, you will need to plan ahead in your supply chain processes so as to minimize negative impacts. More scenario planning could help with predictable trend and foreseeable outcomes. You could better control costs and budget. It's all automated!
Join the breakfast meeting co-hosted with Boomi, Introv and Oracle NetSuite, the industry leaders of data integration and ERP. We come together and allow you to:
✅ Reduce go-to-market time from months to days
✅ Gain deeper insights from data in real-time manner
✅ Facilitate resources allocation with seamless and integrated procurement management process
✅ Avoid high capital costs for on-premises systems
Join Us
Time : 08:30 – 10:30
Date : September 30th, 2022
Venue: Drawing Room, Grand Hyatt Hong Kong
Topic:
ERP evolution in new era
From budget planning to procurement budget control: how to use Oracle NetSuite solution to drive financial excellence
Digital and analytics transformation with augmented data management
Demo
Speakers:
Vivien Hui
General Manager
Introv Limited
Paul Lee
General Manager of Hong Kong
Oracle NetSuite
Wafer Wong
Channel Sales Manager
Oracle NetSuite
Wilson Leung
Channel Director, North Asia
Boomi
Geoffrey Lau
Solutions Architect, Asia
Boomi
SIGN UP
Sorry, this event has expired. Please check out our
events
page for upcoming events.
Should you have any enquiries, please feel free to contact Annie Wong at +852 3616 6567 or email her at
marketing@introv.com
.