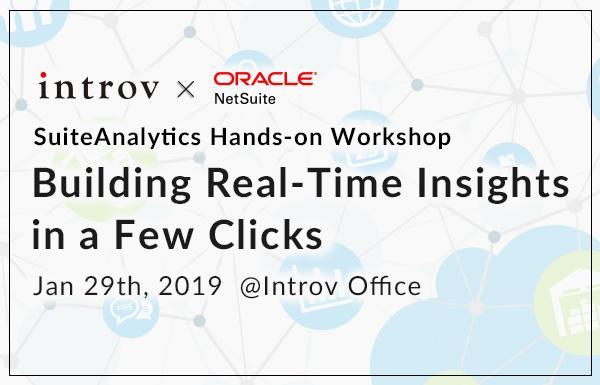 Building Real-Time Insights in a few clicks
Getting an accurate view of the business is challenging. When information is stored across multiple, disparate systems, manual data management processes are time-consuming and error-prone. From the executive level to the front lines, effective decision-making is compromised without reliable, timely data.
Join us and hear how the world's top Cloud ERP platform can make processes like ordering, invoicing, inventory, reporting in real time – with all data centralised in one single system. Realising true value-added insights, business users gain real-time visibility to identify issues, trends and opportunities and instantly drill down to the underlying transaction to take action.
Through the 1-hour hands-on practical, you will discover and gain an experience of reporting and analytics on the NetSuite platform:
Build key performance indicators (KPIs) to show key variances and period-on-period trends, as well as real-time trend graphs easily
Customise reports and "smart" dashboards to meet specific user/ role requirements
Build actionable lists and search analytics for your custom data and applications to maximise productivity
Embed real-time dashboards with your custom applications, helping end-users to identify key business issues quickly and drill through to detailed records in just a few clicks
Who Should Attend? IT Professionals, Data Analysts, Other End-Users e.g. Finance, Operation, Marketing
Join Us
Time : 14:00 – 16:00
Date : January 29th, 2019
Venue: Introv Experience Hub, 28/F, Gravity, 29 Hing Yip Street, Kwun Tong (Entrance on 29/F)
Agenda
14:00 – 14:15  Registration and Networking
14:15 – 14:30  Introducing NetSuite Cloud ERP 
14:30 – 15:45  Demo & Hands-on Practical: Building Real-Time Insights with SuiteAnalytics
15:45 – 16:00  Q&A and Networking
SIGN UP
Sorry, this event has expired. Please check out our
events
page for upcoming events.
Should you have any enquiries, please feel free to contact Annie Wong at +852 3616 6567 or email her at
marketing@introv.com
.