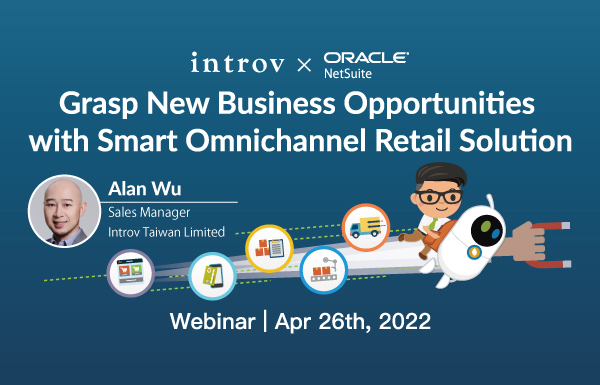 In the past decade, a whole new set of consumer demands has recently emerged due to the changes in trend, interests and technologies. Online shopping is quickly becoming a preferred way to shop for different goods around the globe. As buyers, they expect to have a convenient and seamless online shopping experience, together with fast and accurate delivery schedules. But crafting an effective E-commerce experience is often easier said than done.
Introv, as the 5-star partner of Oracle NetSuite, we provide the world's #1 cloud ERP – Oracle NetSuite. It is a comprehensive array of cloud development tools that provide a unified platform to centralises and synchronises all data and workflows, optimise your inventory and supply chain management with all sales orders, shorten lead time, and provide better customer experience and real-time visibility in your business operations. This true cloud platform also allows companies to run the system hassle-free, without the need of huge investment in IT and increases system quality, security, and enhances corporate management capabilities.
Join us on 26 Apr to hear how the world's top business management tool can make ordering, purchasing, invoicing, inventory, supply chain, pricing and reporting in real time – with all data centralised in one single system. Let our experts share how they can help you to streamline business operations and grasp more new business opportunities.
Join Us
Time : 10:00 – 10:45
Date : April 26th, 2022
Language: Mandarin
Fee: Free of Charge
Agenda:
10:00 – 10:20: Growing your Business for more efficient operations in the cloud
10:20 – 10:40: Use your Resources Wisely – Unlocking your Success in Omni-Channel Business with NetSuite
10:40 – 10:45: Q&A Session
Note: Agenda is subject to change.
SIGN UP
Sorry, this event has expired. Please check out our
events
page for upcoming events.
Should you have any enquiries, please feel free to contact Annie Wong at +852 3616 6567 or email her at
marketing@introv.com
.