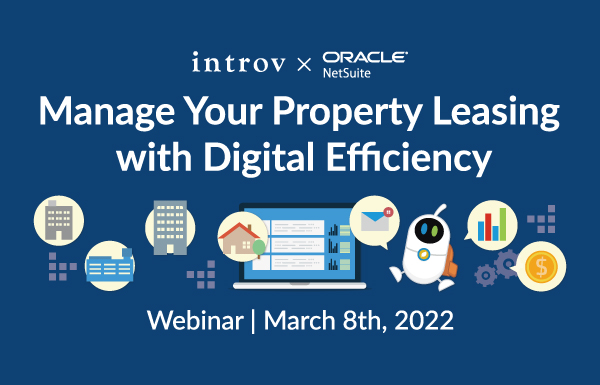 The property management business often undergoes diverse challenges when comes to leasing management, frequent contract creation, rent collection, revenue recognition, regulatory compliance and dynamic pricing system.
Lots of manual works?
Finance teams needs to gather information from different sources when issuing billing?
Looking for ways to improve information sharing and higher efficiency?
Looking for ways to gain real-time business insights with reports for every aspects of lease profolio?
To streamline your leasing processes and meet your business goals, your business is required to improves efficiencies across processes and make better decisions. Introv, as the 5-star partner of Oracle NetSuite, we provide the world's #1 cloud ERP – Introv's Leasing Management Solution (Oracle NetSuite cloud ERP platform). It is a comprehensive array of cloud development tool that automate end-to-end business processes, provides a unified platform to centralises and synchronises all data and workflows. This helps employees to become more productive and successful in their roles, optimise costs, and get real-time visibility on the operations of their entire business to gauge growth and make critical decisions timely.
Join us at our upcoming webinar to learn how Introv x Oracle NetSuite can help transform your leasing management digitally and enhance business performance.
Join Us
Time : 14:30 – 15:15
Date : March 8th, 2022
14:30 – 14:50: Enhance Leasing Management Efficiency with Introv x Oracle NetSuite
14:50 – 15:10: Sharing of Customer Success Stories
15:10 – 15:15: Q&A
Note: Agenda is subject to change. The webinar will be conducted in Cantonese.
SIGN UP
Sorry, this event has expired. Please check out our
events
page for upcoming events.
Should you have any enquiries, please feel free to contact Annie Wong at +852 3616 6567 or email her at
marketing@introv.com
.