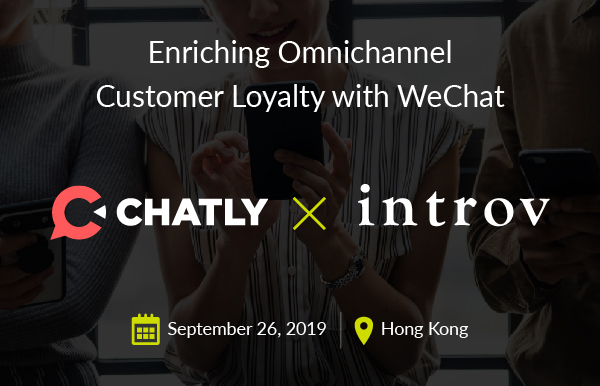 Customers are the lifeblood of businesses. We want to track who they are, what they buy and how they behave, from online to offline. To build a genuinely personalised and rewarding customer journey, you can map and personalise each and every touchpoint along a buying journey, and reward customers based on their omnichannel behaviours.
When it comes to customer engagement in the mobile-first market of China, WeChat cannot be ignored. In fact, WeChat accounts for 34.0% of China's total mobile traffic, and 60% of its users open the app more than 10 times a day. WeChat has built a 'mobile lifestyle' touching various aspects of users' lives.
How do you get started? At our seminar, Introv and Chatly will dive deep into omnichannel loyalty framework and the WeChat ecosystem, and share latest customer engagement and loyalty trends and best practices leveraging WeChat.
JOIN US
Time : 14:30 – 17:30
Date : September 26th, 2019
Venue: Introv Experience Hub, 28/F, Gravity, 29 Hing Yip Street, Kwun Tong (Entrance on 29/F)
AGENDA
14:30 – 14:50  Registrations & Networking Coffee
14:50 – 15:00  Welcome remarks
15:00 – 15:45  WeChat "Art of the Possible" – exploring the WeChat ecosystem from QR code to Mini programs
15:45 – 16:00  Brand Sharing: How a well known brand leverages Salesforce and WeChat to tap into the China market
16:00 – 16:45 Shaping Omnichannel Loyalty for Each and Every Customer
16:45 – 17:00  Q&A
17:00 – 17:30  Networking
SIGN UP
Sorry, this event has expired. Please check out our
events
page for upcoming events.
Should you have any enquiries, please feel free to contact Annie Wong at +852 3616 6567 or email her at
marketing@introv.com
.