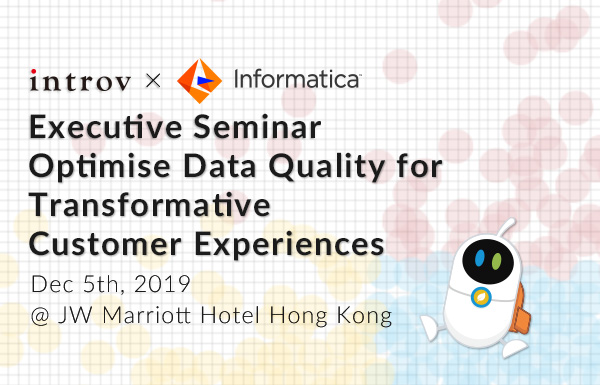 So you have implemented personalised marketing campaigns, but haven't seen significant results in campaign ROI?
Marketing automation is deemed ineffective without trusted, and high-quality data. This has long been a challenge for companies in Real Estate, Finance, and Hospitality industries as data is collected from too many scattered sources. You need end-to-end strategic management of your customer data where data cleansing is a critical process.
Join us at our seminar event on Dec 5, 2019 to hear how your organisation can better leverage data to build customer intelligence and provide a seamless customer experience online and offline. In this session we will explain;
Why customer experience has become the key competitive battleground
How you can transform your current data chaos into single customer view
Best practices for customer data cleansing to prepare for powerful marketing automation
Showcase organisations who excel at data quality strategy
JOIN US
Time : 14:00 – 17:00
Date : December 5th, 2019
Venue: JW Marriott Hotel, Queensway & Victoria Room, Level 3, Pacific Place, 88 Queensway, Hong Kong
SIGN UP
Sorry, this event has expired. Please check out our
events
page for upcoming events.
Should you have any enquiries, please feel free to contact Annie Wong at +852 3616 6567 or email her at
marketing@introv.com
.