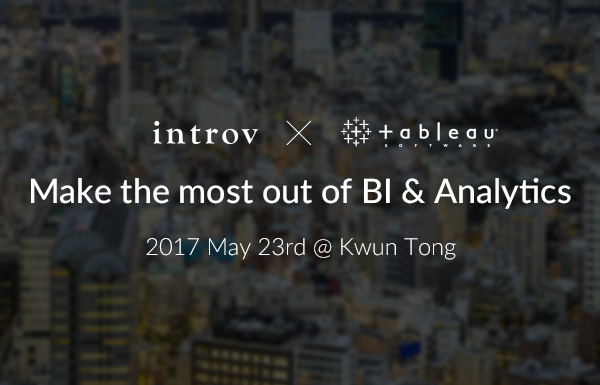 Come join us as we discuss how you can drill deeper into your Salesforce data when you use Tableau – a business intelligence tool that is designed to set your data free!
You and your colleagues are invited to join our workshop to learn more about Business Intelligence and Analytics, and what it can do for your business. Our workshop will be very useful to you if you are currently using Excel to manage and analyse your business data. Using the Tableau tool, we can show you how to get the most out of your data by creating reports in hours vs weeks.
Come and learn how to easily analyse data, from spreadsheets, databases to cloud services, and how you can publish dashboards (visual charts) with a few clicks and share them with your team. We're also offering a hands-on practical session so you can put your data to the test.
Join Us
Time : 13.30 – 16.00
Date : May 23rd, 2017
Location : Unit 2308-10, 23/F, Paul Y. Centre, 51 Hung To Road, Kwun Tong
Agenda
13.30 – 14.00 : Registration
14.00 – 14.10 : Introduction – what can BI do for you and your business
14.10 – 14.30: How to maximise your Salesforce Data in Tableau
14.30 – 15.30: Hands-on Workshop Practical – connecting salesforce.com and data analysis
15.30 – 16.00: Q&A
Join us on May, 23rd. Spaces are limited, so to avoid disappointment, please reserve your spot today.
SIGN UP
Sorry, this event has expired. Please check out our
events
page for upcoming events.
Should you have any enquiries, please feel free to contact Annie Wong at +852 3616 6567 or email her at
marketing@introv.com
.