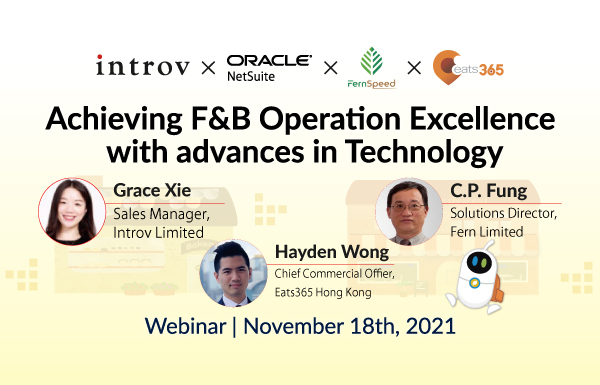 The food and beverage industry is evolving rapidly nowadays. A whole new set of consumer demands has recently emerged due to the changes in trend, interests and technologies. The increasing demand for high quality fresh and frozen products, regulations on traceability, clean labeling as well as lower production costs and shorter lead times, brings great challenges and requires the food and beverage industry to be more flexible today than it ever has been. This high level of flexibility and ability to adapt to changes provides challenges to enterprises. Those are the reasons why the fast-growing companies choose Introv, Oracle NetSuite, Fern and Eats365 as their business growth partners.
To cope with these challenges and quick response to the changes, companies need to have an agile, flexible and scalable business management platform- Oracle NetSuite ERP as the backbone together with the SuiteApp – FernSpeed and the simple-to-use Eats 365 POS.
It doesn't only provide a unified platform to centralise and synchronise all data and workflows, but also facilitates the management of production and warehousing, and reduces operational risks through stronger control over inventory usage and traceability. In addition, this true cloud platform allows companies to run the system hassle-free, without the need of huge investment in IT and increases system quality control, security, and enhances corporate management capabilities.
Come and join us on our upcoming webinar and we wish to share with you how Introv x Fern x Eats365 can help our customers gain sustainable competitive advantage and move to the next stage with the aid of Oracle NetSuite ERP, FernSpeed and Eats365 POS.
Join Us
Time : 15:00 – 16:00
Date : November 18th, 2021
Agenda:
15:00 – 15:10 How Cloud and ERP are changing the game in F&B Industry
15:10 – 15:25 The New Normal in the Restaurant and Catering Industry
15:25 – 15:40 Sharing the Best Practices to Unlock your F&B Business Success
15:40 – 15:55 FernSpeed: Solution for F&B Production and Costing
15:55 – 16:00 Q&A Session
Note: Agenda is subject to change. The webinar will be conducted in Cantonese.
SIGN UP
Sorry, this event has expired. Please check out our
events
page for upcoming events.
Should you have any enquiries, please feel free to contact Annie Wong at +852 3616 6567 or email her at
marketing@introv.com
.