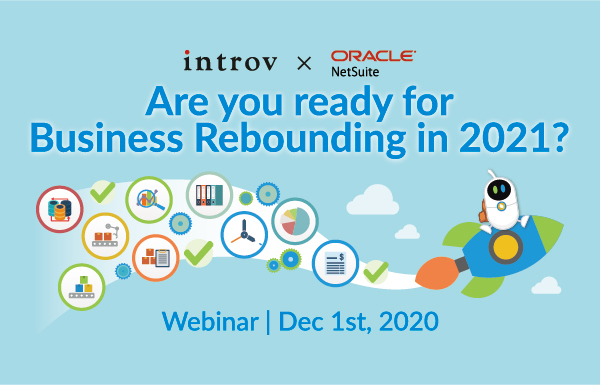 With the economy recovering, businesses are starting to make their way back to a semblance of normalcy. They need to take a hard look at their situations and start to plan for what's next. In order to have a quick reaction to the rebounding of the economy, it is necessary to have an agile, flexible and scalable business management platform as a backbone – a true Cloud CRM & ERP solution for new business operations and new business sales channels.
Join us on 1st Dec, 2020 where we will introduce you to a powerful Integrated Cloud Business Management Suite –Oracle NetSuite and share how Introv can help to plan for your future and adapt your business model as the economy rebounds.
Join Us
Time : 14:30 – 15:30
Date : 1st December, 2020
Agenda:
14:30 – 14:50: Business Challenges and What is the difference between Introv Quick Success and Traditional Implementation Approaches
14:50 – 15:15: Stairway to your Success – Oracle NetSuite overview (with Live demonstration)
15:15 – 15:30 : Q&A
Remarks: With Special Offer to all attendees
SIGN UP
Sorry, this event has expired. Please check out our
events
page for upcoming events.
Should you have any enquiries, please feel free to contact Annie Wong at +852 3616 6567 or email her at
marketing@introv.com
.