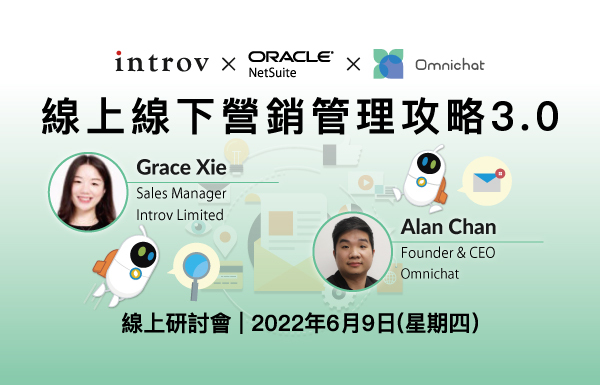 Only Chinese Version available
由吸納新客、行銷轉化、顧客關係管理、訂單庫存、財務管理,我們一條龍助你優化所有業務營運,剖析全渠道高效營銷管理,實現更高的轉化率。
將Omnichat全渠道對話式行銷客服平台完美融入Oracle NetSuite ERP營運系統,集中和同步所有客户對話和工作流程,助您全面瞭解客戶行為、產品需求、庫存狀態以及銷售趨勢,提供更好的客戶體驗,推動智慧零售轉型。
在研討會上,我們會與你分享:
✅ 吸納新客、行銷轉化攻略
✅ WhatsApp 及Facebook 精準營銷、客户管理
✅ 雲業務管理系統 – Oracle NetSuite
✅ 數據和工作流程優化,訂單庫存和供應鏈管理
✅ 品牌成功案例分享:轉換率、成效數字
線上研討會詳情:
日期:2022年6月9日(星期四)
時間:14:30 – 15:30
語言:粵語
講者簡介:
1. Grace Xie, Introv Limited, Sales Manager
Grace 是 Introv Limited 的銷售經理,擁有多年IT銷售和諮詢服務的經驗,幫助企業通過技術發展,充分發揮其潛力, 成功轉型。
2. Alan Chan – Omnichat, CEO & Founder
Alan 擁有超過十年互聯網產品開發經驗的連續創業家,並有多年電子商務創業經驗。 現主力發展 Omni-Channel Chat Commerce,理想是以 OMO 對話銷售,來改變顛覆整個零售業界。
*請注意: 各議程內容可能會有所改動
SIGN UP
Sorry, this event has expired. Please check out our
events
page for upcoming events.
Should you have any enquiries, please feel free to contact Helen Tam at +852 3616 6567 or email her at
helen.tam@introv.com
.