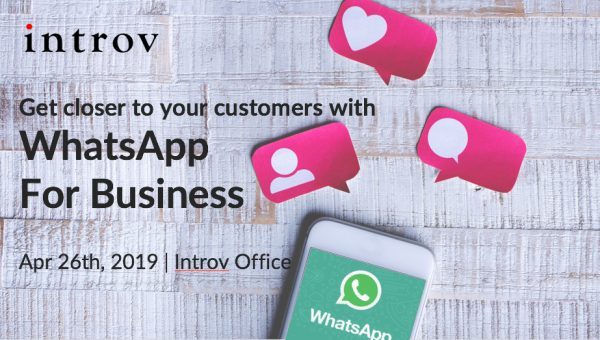 Get closer to your customers with WhatsApp For Business
We're in a mobile-savvy generation which almost everyone in Hong Kong uses WhatsApp for day-to-day communications.
With Introv, businesses can now integrate WhatsApp into their business strategies in CRM, customer service, operations etc.
It's not just about the incredible efficiency, but the closer relationship with customers.
Compared to other channels like emails, Apps, SMS and social media, WhatsApp allows a true 2-way interaction between the business and your customers, enabling you to get more personal and earn a higher customer retention rate.
In a marketplace overflowing with apps, if your app is not on the "must-have apps" list, it always ended up being deleted or hidden silently on the screen. Why not take your App functions to WhatsApp, e.g. easy membership registration, proactive update on points expiry, jetso sharing, delivery scheduling?
At our workshop, you'll hear
Creative Ways To Use WhatsApp For Your Business
Quick Demo To Showcase The Solutions And Its Powerful Features
Success Case Sharing
Join Us
Time : 15:30 – 17:00
Date : April 26th, 2019
Venue: Introv Experience Hub, 28/F, Gravity, 29 Hing Yip Street, Kwun Tong (Entrance on 29/F)
*Note: Agenda subject to change.
Seats are limited.
SIGN UP
Sorry, this event has expired. Please check out our
events
page for upcoming events.
Should you have any enquiries, please feel free to contact Annie Wong at +852 3616 6567 or email her at
marketing@introv.com
.