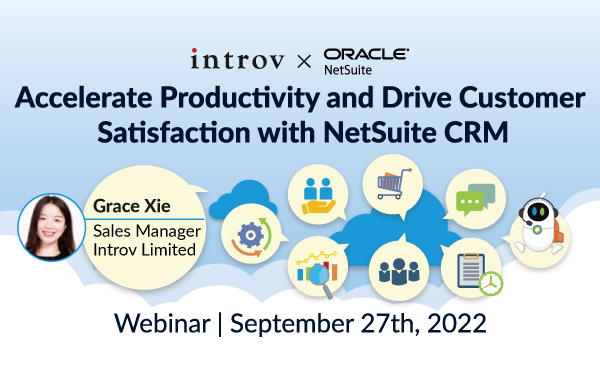 If your business is still growing well, you might not think you need a customer relationship management (CRM) technology. In fact, if you are using any types of spreadsheets or emails to manage customer conversations and follow-ups, you are already using a customer relationship management solution.
But the question is: Does your current solution make the best use of your time and resources to retain your customer and grow your business?
Introv, as the 5-star partner of Oracle NetSuite, we provide an all-rounded CRM – NetSuite CRM. It improves the operation efficiency by replacing the manual processes with automated ones. NetSuite CRM also delivers powerful capabilities to centralise and synchronise all data and workflows (e.g. sales force and marketing automation, case management and etc. ) in a unified cloud platform, and provides real-time data to teams to deliver exceptional customer experiences and drive sales .
Join us to hear how NetSuite CRM can help in improving operation efficiency and developing an intimate relationship with customers which are what make businesses successful.
Join Us
Time : 10:30 – 11:15
Date : September 27th, 2022
Agenda:
10:30 – 10:50 Improve Sales Team Visibility and Effectiveness
10:50 – 11:10 Live Demonstration
11:10 – 11:15 Q&A
Note: Agenda is subject to change. The webinar will be conducted in Cantonese.
SIGN UP
Sorry, this event has expired. Please check out our
events
page for upcoming events.
Should you have any enquiries, please feel free to contact Annie Wong at +852 3616 6567 or email her at
marketing@introv.com
.