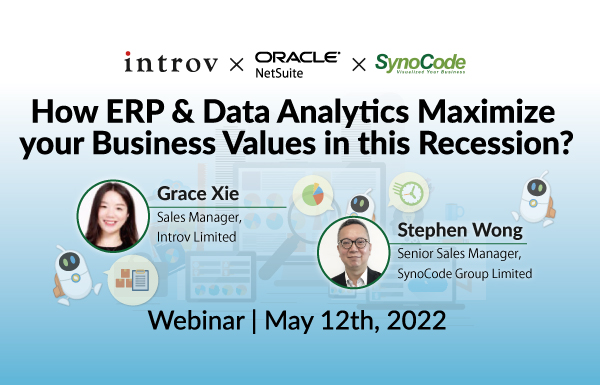 Getting an accurate view of the business is challenging, especially information is stored across multiple and disparate systems. Manual data processing is time-consuming and error-prone. Effective decision-making is compromised without reliable, timely data. With the world's top Cloud ERP platform in place, business leaders can make processes like ordering, invoicing, inventory, reporting in real time – with all data centralised in one single system.
Today's data transformation journey is part of the business strategy. Data architecture becomes the accumulation of multiple steps – evolving and integrating between ERP and Data Analytics enables companies with real-time visibility to identify issues & opportunities, strengthens their analytical capabilities and win in a competitive landscape.
At our workshop, you'll hear:
How to unlock your Business Full Potential with Oracle NetSuite ERP
How Data Analytics Allows Business Insight to Improve Performance
Enhance Business Efficiency and Sustain your Business through Data-driven Insight
Join Us
Time : 14:30 – 15:15
Date : May 12th, 2022
Note: Agenda is subject to change. The webinar will be conducted in Cantonese.
SIGN UP
Sorry, this event has expired. Please check out our
events
page for upcoming events.
Should you have any enquiries, please feel free to contact Annie Wong at +852 3616 6567 or email her at
marketing@introv.com
.