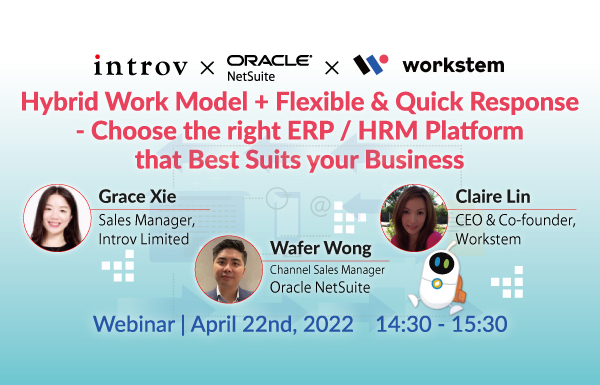 Covid-19 has disrupted normal business operations, and each business faces its own challenges.
More companies switching to WFH, how you can ensure employees can access the ERP / HRM system anytime anywhere and maintain business operation and continuity.
Using separate systems for your business operations, the data is usually silos that increase error rate, slow down the efficiency.
Lots of employees have been diagnosed and there's insufficient front-line staff to maintain business operation.
Dozens or even hundreds of employees have been diagnosed during the peak period of the epidemic. The HR team & finance team need spend much time and resources to accurately calculate the sick leave allowance and issue in time, and synchronize it to the ERP system for analysis.
According to the analysis report from ERP system, catering / retailing businesses need to switch to hybrid employment types(full-time/part-time/rehire) to adapt to the fast changing economy.
How can you solve these challenges? All you need is to have an agile, flexible and scalable business management platform- Oracle NetSuite ERP as the backbone together with the one-stop attendance to payroll HRM platform – Workstem.
It doesn't only provide a unified platform to centralise and synchronise all data and workflows for more accurate records and real-time reporting and analysis, but also improve the operational efficiency and financial control through digitising and automating the HR and finance functions. It also provides a way for employees to submit attendance/leave/expenses application anywhere anytime through mobile APP easily, and a new way for the management easily to control labor cost by switch to hybrid employment types(full-time/part-time/rehire) to adapt to the fast changing economy. This helps the management to make strategic decisions and improve business agility in times of urgent change.
Join us to hear how Introv x Oracle NetSuite x Workstem can help our customers gain sustainable competitive advantage and move to the next stage.
Join Us
Time : 14:30 – 15:30
Date : April 22nd, 2022
Agenda:
14:30 – 14:40: Welcoming & Introducing of Introv & Workstem
14:40 – 15:00: Manage Workforce and Payroll by Workstem AI Driven HRM Platform
15:00 – 15:20: Drive Business Strategy and Growth with Oracle NetSuite
15:20 – 15:30: Q&A
Note: Agenda is subject to change. The webinar will be conducted in Cantonese.
SIGN UP
Sorry, this event has expired. Please check out our
events
page for upcoming events.
Should you have any enquiries, please feel free to contact Annie Wong at +852 3616 6567 or email her at
marketing@introv.com
.