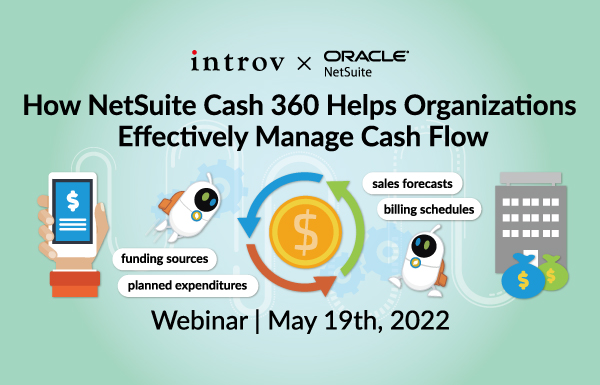 Have you ever found your business was short on cash and you were struggling to meet your financial obligations? Cash is the lifeblood of the business and effective cash management is critical to success for every business. With an all-rounded cash management solution – Oracle NetSuite, it would help to access real-time and accurate financial data, eliminate inefficient manual processes and improve operational efficiency and customer satisfaction.
In addition, it includes the new feature in NetSuite 2022 Release 1 – Cash 360 dashboard which enables you to effectively manage cash flow by providing a real-time view of the cash position and generate fast and accurate cash flow forecasts of the rolling six-month. This also helps leaders to make critical decisions timely.
Introv wishes to invite you to come and join us for an-hour Cash Management sharing session to have a taste of the intelligent Cash Management solution powered by Oracle NetSuite.
Join Us
Time : 10:00 – 11:00
Date : May 19th, 2022
Agenda:
10:00 – 10:10 The Current Challenges for Businesses to Control Cash Resources
10:10 – 10:30 NetSuite Cash 360
10:30 – 10:50 Bank Automation
– Enables you to automatically import bank statement files into NetSuite
– Electronic Bank Payment
10:50 – 11:00 Q&A Session
Note: Agenda is subject to change. The webinar will be conducted in Cantonese.
SIGN UP
Sorry, this event has expired. Please check out our
events
page for upcoming events.
Should you have any enquiries, please feel free to contact Annie Wong at +852 3616 6567 or email her at
marketing@introv.com
.