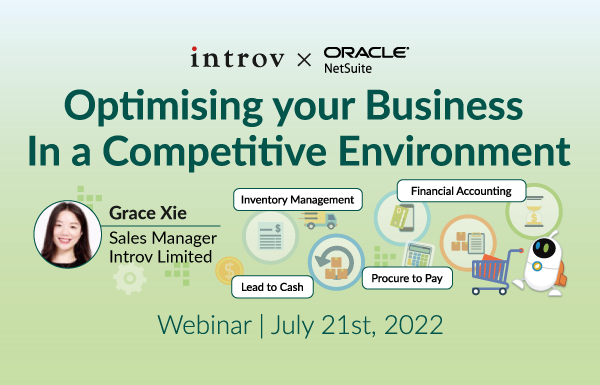 In today's competitive and fast-moving era, running a business smoothly is not easy. The management is faced with a variety of challenges in different business areas, whether it's accounting, operations, inventory management, or strategic planning.
Are you still relying on Excel spreadsheets?
It's too hard to find out what's really happening across your business right now?
Too much time worrying about technology instead of business results?
Losing customer because you can't make the fulfillment demands?
Don't worry if you had checked some of the challenges, you are not alone. Introv Quick Success Package can help by leveraging the true cloud business management tool as the backbone to automate key processes and improve business performance.
Join our "Quick Success" webinar to hear how the world's top business management tool can make ordering, purchasing, invoicing, inventory, supply chain, pricing and reporting in real time – with all data centralised in one single system. It provides data integrity with a single source of truth and improves efficiency, giving you valuable insight into its performance and prospects. This true cloud platform also allows companies to run the system hassle-free, without the need of huge investment in IT and increases system quality control, security, and enhances corporate management capabilities.
Join Us
Time : 10:00 – 10:45
Date : July 21st, 2022
Agenda:
10:00 – 10:15: Cloud and ERP
10:15 – 10:35: How Introv Quick Success can help
10:35 – 10:40: Government Funding Scheme to support the adoption of ERP in your company
10:40 – 10:45: Q&A
Note: Agenda is subject to change. The webinar will be conducted in Cantonese.
SIGN UP
Sorry, this event has expired. Please check out our
events
page for upcoming events.
Should you have any enquiries, please feel free to contact Annie Wong at +852 3616 6567 or email her at
marketing@introv.com
.