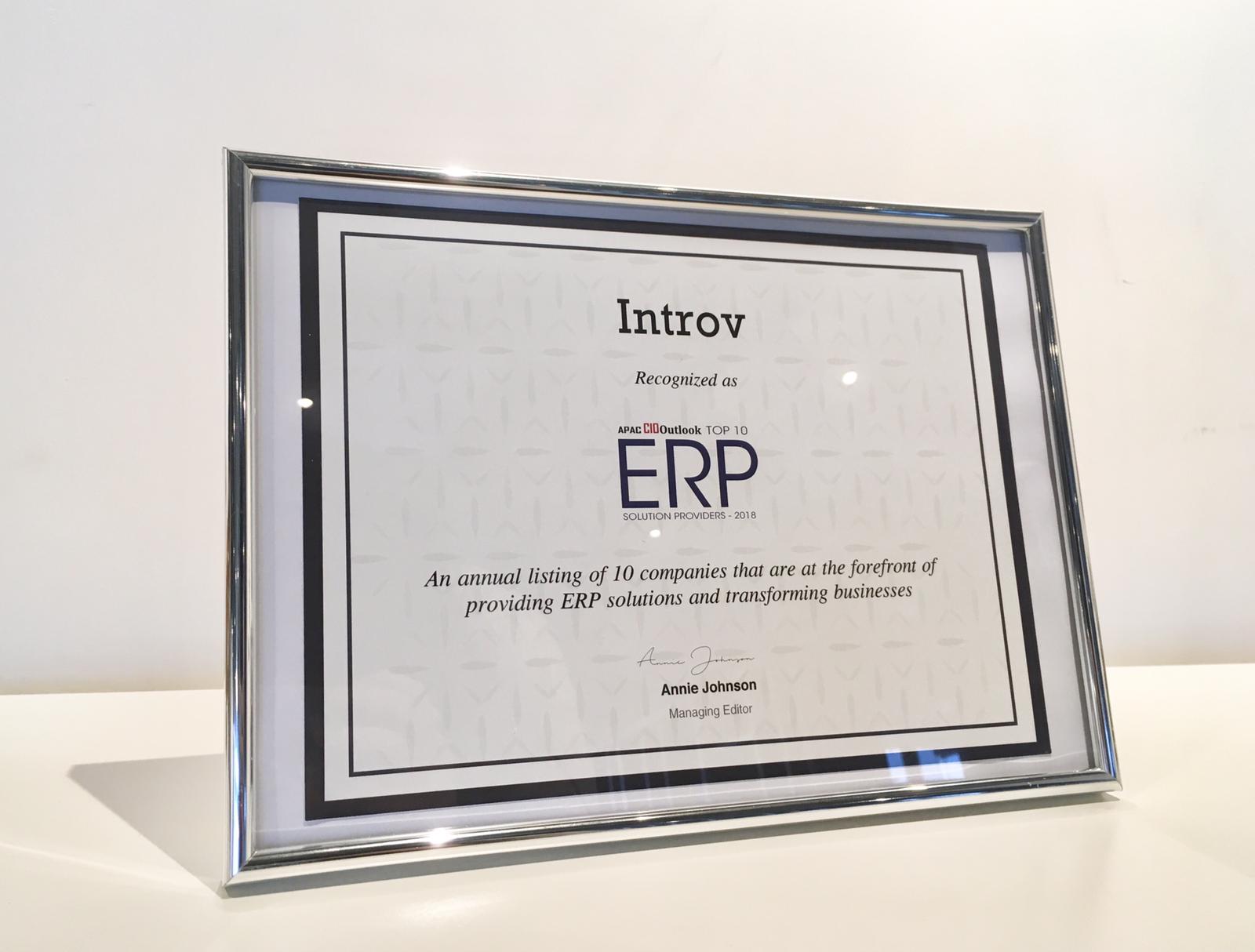 Through extensive efforts and strong dedication in providing world-class ERP solutions, Introv has gained regional recognition from APAC CEOs and CIOs. Introv is honoured to be named the top 10 ERP solutions providers by APAC CIO Outlook Publication, after rounds of comprehensive review and judging.
With a decade-long experience in the industry, as well as a fast-growing team of talents, Introv has been the business growth partner of 500+ businesses, delivering the best fit ERP solutions that redefine and innovate business practices.
"Introv offers a list of comprehensive business technologies consulting and supporting services, which are essential to deliver a smooth and full-scale, 360 service offering," – APAC CIO Outlook
"We are glad to receive the regional recognition, which is an acknowledgement of the team's continuous efforts and a significant testament of our excellent services" – Ivan Cheung, Director, Introv.
For the full award coverage by APAC CIO Outlook, please view here. The "Top 10 ERP Solution Providers 2018" featured the best solution and service providers offering tools and services in the ERP landscape. A distinguished panel comprising of CEOs, CIOs, VCs, and analysts including APAC CIO outlook editorial board reviewed the top solution providers in the ERP domain, and shortlisted the ones that are at the forefront of tackling ERP challenges. After comprehensive judging, 10 top ERP solution providers are ranked each year.
About Introv Limited
Introv is an award-winning, full service IT & Business Management Consultancy Service Provider in APAC. We offer best-in-class collaborative software solutions to companies of all sizes, looking to improve the operational excellence of their business. Our solutions include ERP, CRM, Business Intelligence & Analytics and Mobility.
Our vision is to continue to deliver world-class results that help customers grow by redefining their business practices, while boosting their overall growth an success.