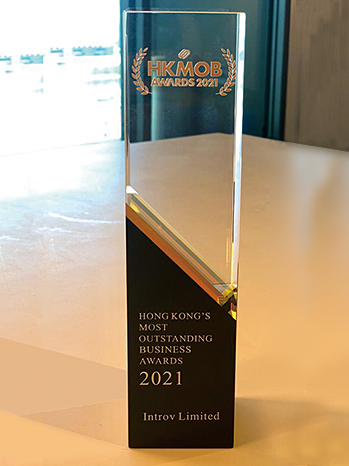 Through extensive efforts and strong dedication in providing world-class cloud solutions and excellent services, Introv was proud to receive the award "Hong Kong's Most Outstanding Business Awards 2021" by CORPHUB, after rounds of comprehensive review and judging.
With a decade-long experience in the industry, as well as a fast-growing team of talents, Introv has been the business growth partner of 580+ businesses, delivering the best fit cloud solutions that redefine and innovate business practices.
"It is a great honor for Introv to receive this award. It is an acknowledgement of the team's continuous efforts and a significant testament of our excellent services" – Vivien Hui, Senior Manager, Introv.
We would like to take this opportunity to thanks for the support and trusts from our customers and the team. And we're more than happy to speak with you and help your business moving to the next page ! Contact Us NOW.
About Introv Limited
Introv is an award-winning, full service IT & Business Management Consultancy Service Provider in APAC. We offer best-in-class collaborative software solutions to companies of all sizes, looking to improve the operational excellence of their business. Our solutions include ERP, Omnichannel Loyalty, Integration and Automation.
Our vision is to continue to deliver world-class results that help customers grow by redefining their business practices, while boosting their overall growth and success.