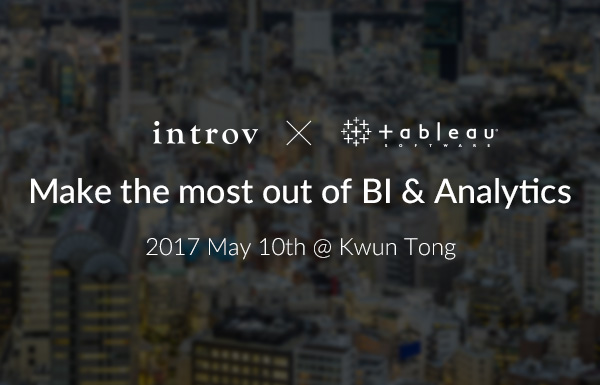 Introv are proud partners of Tableau, a software solutions company that specialises in BI data visualisation.
You're invited to join our workshop to learn more about how you can utilise Tableau, an intuitive business intelligence tool, to gain better insight of your customers and products. Tableau can be used for any industry.
Come and learn how to easily analyse data, from spreadsheets, databases to cloud services, and how you can publish dashboards (visual charts) with a few clicks and share them with your team.
Join Us
Time : 13.30 – 16.00
Date : May 10, 2017
Location : Unit 2308-10, 23/F, Paul Y. Centre, 51 Hung To Road, Kwun Tong
Agenda
13.30 – 14.00 : Registration
14:00 – 14:10: Introduction: Retail Challenges and how BI can help you and your business
14:10 – 14:30: Creative ways retailers use Tableau across the enterprise
14:30 – 15:30: Hands-on Workshop Practical – Transform your Excel Data Analysis
15:30 – 16:00: Q & A
Join us on May 10. Spaces are limited, so to avoid disappointment, please reserve your spot today.
SIGN UP
Sorry, this event has expired. Please check out our
events
page for upcoming events.
Should you have any enquiries, please feel free to contact Annie Wong at +852 3616 6567 or email her at
marketing@introv.com
.