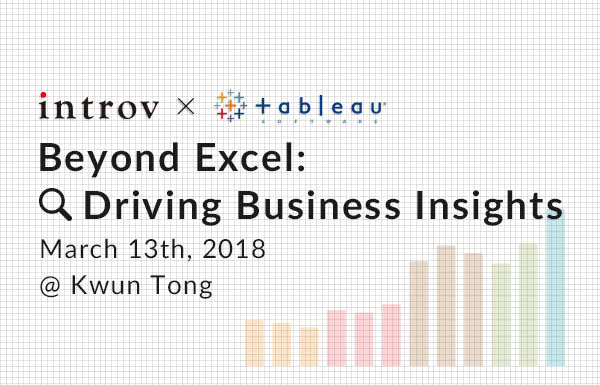 Are you in a love-hate relationship with Excel? Frustrated and feeling like you're not moving forward? Bring back the romance. This workshop is useful for you if you are currently using Excel – especially for those who are spending lots of time in formatting, doing vlookup and combining data for analysis and you are looking for a way out to improve working efficiency. Join us and repair your relationship with Excel, let Excel do what it is good at. Move the analytics takes you depend on and supercharge them in Tableau.
In this workshop, we will share:
How to duplicate and improve Excel functionality in Tableau
How to move beyond the constraints of rows and columns
You will also learn how to:
Connect with your data
Create your first interactive visualisation
Add context to your analysis with reference lines and annotations
Blend disparate data sources
Create interactive Dashboards
Share and publish your dashboards
Join Us
Time : 13.45 – 16.00
Date : March 13th, 2018
Location : Unit 2308-10, 23/F, Paul Y. Centre, 51 Hung To Road, Kwun Tong
Agenda
13.45 – 14.00: Registration
14.00 – 14.10: Welcome & Introduction: Introv & Tableau
14.10 – 14.40: How Tableau goes beyond Excel
14.40 – 15.30: Tableau Practical Experience
15.30 – 16.00: Q&A
We are also pleased to offer you a 14-day free trial. To claim your free trial, please click here
*Note: The session will be conducted in Cantonese. Agenda subject to change.
Spaces are limited
SIGN UP
Sorry, this event has expired. Please check out our
events
page for upcoming events.
Should you have any enquiries, please feel free to contact Annie Wong at +852 3616 6567 or email her at
marketing@introv.com
.