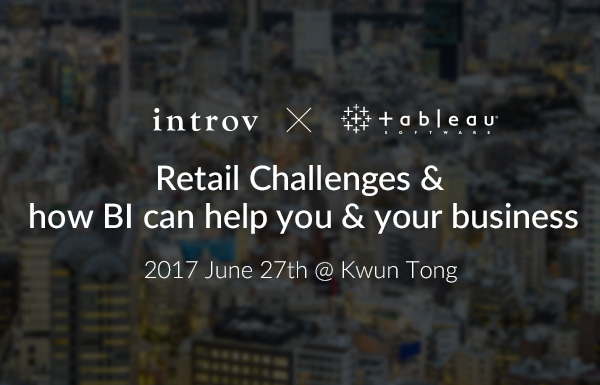 As proud partners of Tableau, a software solutions company that specialises in BI data visualisation, we are pleased to invite you to attend our upcoming workshop. Come join us and learn how you can empower yourself by understanding your data better with Tableau, a business intelligence tool designed to change how you see and interpret data.
Join Us
Time : 13.30 – 16.00
Date : June 27th, 2017
Location : Unit 2308-10, 23/F, Paul Y. Centre, 51 Hung To Road, Kwun Tong
Agenda
13.30 – 14.00 : Registration
14.00 – 14.40 : Introduction – what can Business Intelligence do for you and your business
14.40 – 15.30 : Workshop practical
15.30 – 16.00 : Q&A
What's more, we are pleased to offer you a 14 day free trial. To start your trial now, please click here
Join us on June 27th. Spaces are limited, so please reserve your spot today.
SIGN UP
Sorry, this event has expired. Please check out our
events
page for upcoming events.
Should you have any enquiries, please feel free to contact Annie Wong at +852 3616 6567 or email her at
marketing@introv.com
.