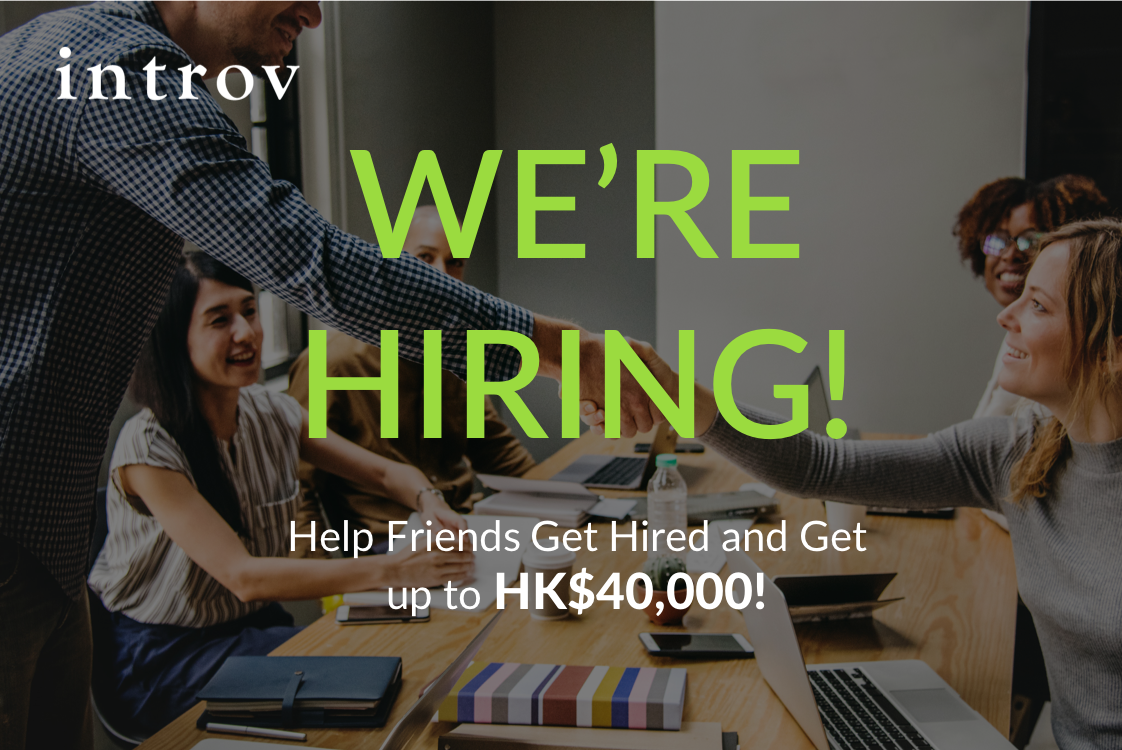 We're hiring!

Do you have friends who are passionate about CLOUD technology? Now refer him/her to join INTROV, and you may get up to HK$40,000 reward *!
Vacancies
Referral Bonus
Reward Point
• Senior Consultant

• Business Intelligence Consultant

HK$20,000
5
• Software Engineer

• ERP Consultant

• Consultant

• Sales Manager / Account Executive

• Customer Success Manager / Representative

• Assistant Project Manager / Project Manager

HK$10,000
3
• Associate Consultant
HK$5,000
2
Visit our Career Page to see detailed job descriptions.
Reward Point
Additional Reward
10
Apple Watch Series 4 (38mm / 42mm) = Value of HK$3,199 & HK$3,399
15
Iphone XS 256GB = Value HK$9,899
20
"13 inch" MacBook Pro Touch Bar & Touch ID

2.3GHz Quad-Core Processor 512GB storage = Value HK$15,888

30
CASH AWARD HK$40,000
For referral enquiries, please contact our HR department at hr@introv.com or (852) 3616 6567.
* Terms and Conditions: (1) Any referral of applicants for any of the relevant positions does not automatically constitute an employment relationship with INTROV. (2) The applicant must at first meet the requirements of the position he/she applied as set out in the job description but INTROV reserves the right to make the final decisions as to whether to hire the applicant or not. (3) For the relevant reward to the referrer to be valid, the applicant must have successfully applied for any of the relevant positions and passed his/her probation period with INTROV. (4) You can refer as many applicants as you want for the relevant positions. (5) The applicant shall not be (i) an ex-employee of INTROV; and/or (ii) undergoing any INTROV recruitment process as of the date of submission. (6) If INTROV has received a resume or application from the applicant within three months prior to the referrer's submission, this application will not be accepted. (7) The applicant must pass all interviews and accept an offer within six weeks from the date of submission. (8) The referrer is responsible for paying all relevant taxes. i.e: income tax (if applicable). (9) This program is not applicable for any recruiters or agencies. (10) Should you have any enquiries, please email hr@introv.com. (11) In case of any dispute, INTROV reserves the right to make the final decision. (12) The collection, use, storage and transfer of your personal data are generally subject to our privacy policy ("Privacy Policy") and personal information collection statement, the latest version of which is at https://introv.com/privacy-policy/. Our Privacy Policy, as may be amended and updated from time to time at our sole discretion, is incorporated by reference into these Terms. (13) All personal data collected by INTROV will be kept strictly confidential. All personal data of the applicants collected by INTROV may be used by INTROV: (i) for recruitment purpose; (ii) to verify the identities of the applicants. All personal data of the referrers collected by INTROV may be used by INTROV: (i) to contact the referrers; (ii) to verify the identities of the referrers.
About Introv Limited
Introv is an award-winning, full service IT & Business Management Consultancy Service Provider in APAC. We offer best-in-class collaborative software solutions to companies of all sizes, looking to improve the operational excellence of their business. Our solutions include ERP, CRM, Business Intelligence & Analytics and Mobility.
Our vision is to continue to deliver world-class results that help customers grow by redefining their business practices, while boosting their overall growth an success.