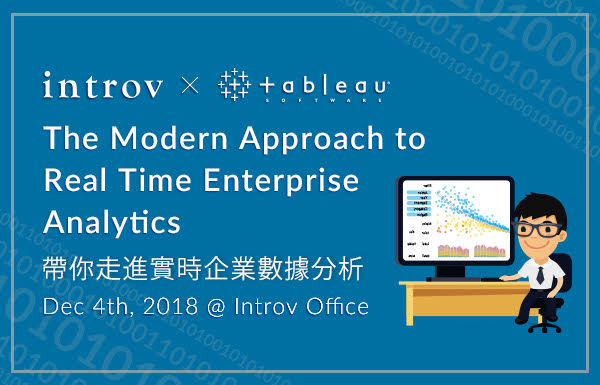 Nowadays, traditional report factories are becoming obsolete. Enterprises are shifting to self-service analytics and looking for a sustainable and long-term approach to governance that satisfies the needs of both the business and IT. The Business needs real-time access to data to gain invaluable business insights, better adapt to ever-changing, fast moving market trends and customer behaviours. IT needs to audit and manage data to ensure it's accurate, secure, and governed to scale. However, in most of the organisations, there is limited number of people able to both ask and answer their own questions, it's time to take a closer look at your data analytics strategy in order to help you increase your organisation's top line and drives greater efficiencies.
現今,企業紛紛轉向自助分析,尋找長期可持續的管控方法來同時滿足業務和 IT 部門的需求。為了獲得關鍵決策的支持及回應快速變化的市場趨勢和客戶行為,業務部門需要實時的數據。而IT部門需要審核和管理數據,確保數據準確,安全並受到適度管控。但在大多數的組織中,只有少部份的人能夠同時提出並回答自己的問題,所以,這是一個好時機去審視您的數據分析策略,以幫助您提高組織的效率。
At our workshop, you'll hear:
How visual data analysis brings speed, value, accuracy, collaboration and leads to culture of analytics
How modern enterprises are eliminating boundaries between the business and IT
How shifting to enterprise self-service analytic tools empowers both the business and IT
工作坊內容:
視象化數據分析如何帶來效率、價值和準確性,有助於營造分析文化
如何加強業務部門和 IT 部門的協作
如何透過採用企業自助數據分析工具有助業務和 IT 部門的運作
Join Us
Time : 14:00 – 16:15
Date : December 4th, 2018
Venue: Introv Experience Hub, 28/F, Gravity, 29 Hing Yip Street, Kwun Tong (Entrance on 29/F)
Agenda
14:00 – 14:15 : Registration
14:15 – 14:25 : Welcome & Introduction: Introv & Tableau
14:25 – 14:55 : How Tableau do for you and your business
14:55 – 15:00 : Networking Break
15:00 – 15:45 :  Workshop practical
15:45 – 16:00 : Q&A
16:00 – 16:15 : Networking Coffee & End of Event
We are pleased to offer you a 14-day trial, to claim your free trial, please click here.
*Note: This workshop will be conducted in Cantonese. Agenda subject to change.
SIGN UP
Sorry, this event has expired. Please check out our
events
page for upcoming events.
Should you have any enquiries, please feel free to contact Annie Wong at +852 3616 6567 or email her at
marketing@introv.com
.