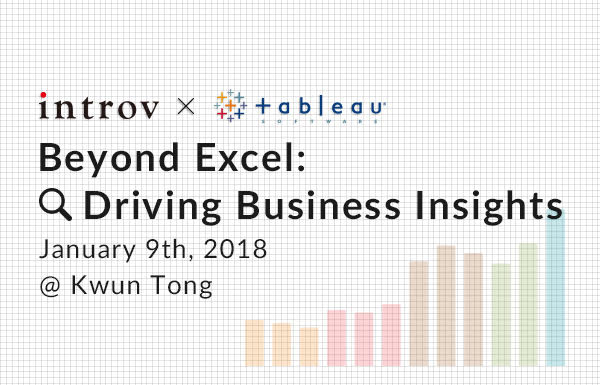 This workshop is ideal for those who are interested in learning more about Business Intelligence reporting. It would be useful to those who are currently using Excel – especially if you spend a lot of time formatting, formulating and putting it data for analysis.
In today's fast-paced business environment, you need a tool that is not only quick, you also need one that is flexible and adaptable. We want to introduce you to Tableau, a business intelligence tool that allows anyone to easily connect to data, and visualise it in a way that makes senses to them.
What you'll learn how to:
Connect with your data
Create your first interactive visualisation
Add context to your analysis with reference lines and annotations
Blend disparate data sources
Create interactive Dashboards
Share and publish your dashboards
Join Us
Time : 13.45 – 16.00
Date : January 9th, 2018
Location : Unit 2308-10, 23/F, Paul Y. Centre, 51 Hung To Road, Kwun Tong
Agenda
13.45 – 14.00 : Registration
14.00 – 14.10 Welcome & Introduction: Introv & Tableau
14.10 – 14.40 How Tableau goes beyond the capabilities of Excel
14.40 – 15.30 : Tableau Practical Experience
15.30 – 16.00 : Q&A
We are also pleased to offer you a 14-day free trial. To claim your free trial, please click here
*Note: The session will be conducted in Cantonese. Agenda subject to change.
Spaces are limited
LOCATION
SIGN UP Should you have any enquiries, please feel free to contact Helen Tam at +852 3616 6567 or email her at helen.tam@introv.com.
* These fields are required.