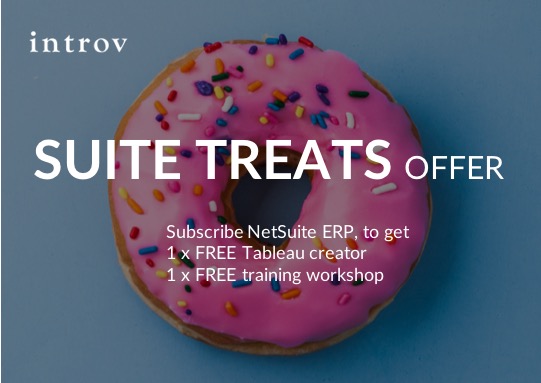 Limited Offer: Grab your Suite Treats Offer while it lasts!
NetSuite & Tableau together to maximise your value!
Offer Details:
Upon any subscription of NetSuite ERP before 30 Nov 2018, you'll enjoy 1 x FREE Tableau creator*. Gain an extra 1 x FREE workshop training* for Tableau data analytics tool by subscribing before Oct 31 2018!
While NetSuite ERP helps streamline and integrate every business functions from accounting to purchasing, inventory, supply chain and logistics, sales ordering and CRM, Tableau is an industry leading Business Intelligence tool that focuses on data visualisation, dashboarding and data discovery.
Key Benefits include:
Seamless business analysis: Through the joint solution, you can easily leverage ERP, CRM, and e-commerce data to identify key performance indicators (KPI) and gain insights into overall business performance
Visual Analytics: Interactive dashboards can dynamically filter data, split trends across different categories, or run an in-depth cohort analysis
Interactive mapping: beautiful, interactive worldwide maps provide location-based insights into business performance.
Deep Statistics: Users can export critical business data to run trend analyses, regressions, correlations and more
Interested? Please do not hesitate to contact (852) 3616 6567 or enquiries@introv.com to reserve the offer!
Friendly reminder that the offer limits to the first 10 customers who apply, please act quickly! 
*Terms and Conditions: 1) This offer applies to NEW customers only. 2) One Free Tableau Creator refers to 1-year Tableau Creator subscription. 3) To enjoy the One Free Tableau Creator, the subscription of NetSuite must be made before 30 Nov, 2018. 4) To gain Extra One session of Tableau workshop training, the subscription of NetSuite must be made before 31 Oct, 2018. 5) Introv Limited reserves the right of final decision in case of disputes.