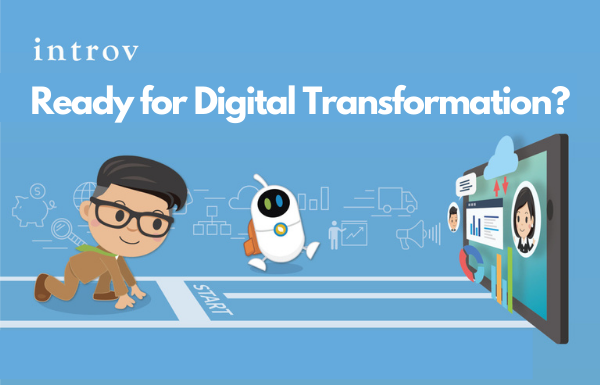 What is digital transformation?
Digital transformation refers to integrating digital technology (e.g. software or application) into business functions to improve daily operations/workflows. It is the process to create new or modify existing business procedures to meet changing business and market requirements. This approach can often boost revenue and competitiveness while increasing employee productivity and improving customer service and communication.
Not so long ago, businesses kept records on paper and excel spreadsheet. While people started generating ideas for using business technology in new ways, this was how digital transformation changed this forever by making customer records and billing so much easily and quickly retrievable via computer.
Why MNC, SMEs, startups, IPO/SPAC companies Are Upgrading to Oracle NetSuite ERP?
Do you know: Growing businesses have turned to Oracle NetSuite ERP to help cut their IT costs in half, reduce financial close times 20% to 50% and improve quote-to-cash cycle times by 50% and more? Oracle NetSuite provides cloud ERP solutions for every size company, across every industry, in every part of the world.
Oracle NetSuite ERP is an all-in-one cloud business management solution that helps organizations operate more effectively by automating core processes and providing real-time visibility into operational and financial performance. With a single, integrated suite of applications for managing accounting, order processing, inventory management, production, supply chain and warehouse operations, NetSuite gives companies clear visibility into their data and tighter control over their businesses.
Why CEOs and CFOs love Oracle NetSuite ERP so much?
New insights and personalized customer interactions can be provided: Artificial intelligence (AI), and specifically machine learning, help optimize more business processes and deliver critical business capabilities.
ERP is further integrating with other technologies, such as internet of things (IoT) devices and social media, to automate even more and provide greater visibility and a better customer experience for C-level management to make impactful changes to run their business better.
Supporting remote work has become critical as organizations increasingly rely on distributed workforces.
Enables C-level management to apply leading-edge industry best practices and extend its current business processes to grow more resilient, more profitable, and more sustainable.
Why is everyone saying about innovations in ERP for small and midsize businesses?
Efficient: Cloud delivery eliminates on-premise IT costs.
Integrated: ERP, CRM and ecommerce suite cuts cycle times and errors.
Visibility: Real-time dashboards and analytics eliminate spreadsheets.
Anywhere: Browser and mobile access lets you access from anywhere.
Global: Multi-subsidiary intelligence scales as you grow.
Adaptable: Customize with confidence without risking version lock.
Up-to-date: Automated upgrades deliver the latest innovations.
20 percent of the Fortune 100 use NetSuite
Oracle NetSuite ERP can set companies in all sizes on the path to sustainable growth and success.  As enterprise companies grow globally, they are increasingly turning away from legacy, on-premise software to cloud ERP to spur growth. With its agility, ease of deployment, and rapid time to market, cloud ERP allows them to maintain their investments in on-premise systems at headquarters, while launching new subsidiaries and locations, including mergers and acquisitions and emerging markets, quickly and easily.
NetSuite ERP is a true cloud solutions that serves as a trustworthy source of information for all companies in all sizes and in all industries. With more than 27,000+ companies worldwide using this system, this leading integrated cloud business software suite with functions like business accounting, ERP, CRM and ecommerce is something that every great entrepreneur should explore.
Want to see how Oracle NetSuite ERP can serve your interests and support your vision? Get in touch with us now. Let us listen to your pain points and we will design the best system for you to grow your business.


Source: Oracle NetSuite
Related articles:
Retail/Food and Beverage/Wholesale Hybrid Solutions: Features in mobile ERP applicationsWhat is NetSuite CRM (Customer Relationship Management) and how it benefits your business?
Business news:Oracle NetSuite ERP System for Global Artificial Intelligence (AI) Enterprises