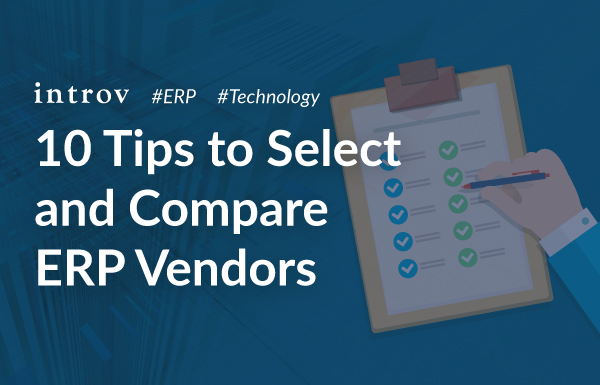 How to select a new ERP system? Any tips?
Are you looking for a new ERP system that best suits your business's needs, or wondering where to start?
There may be more than one route to having a new ERP system, as determined by the different needs of your company's departments and existing IT systems.
Here's are the tips and evaluation template for you to select, compare and evaluate ERP vendors so you can find the perfect fit.

Evaluate and Establish ERP Requirements
An ERP manages all core business functions in a single system. It boosts cross-department collaboration. Given ERP's broad company-wide impact, an internal team of stakeholders from various departments of the business should have a voice in shaping a checklist of ERP requirements before any system or vendor is considered.

Determine Budget and Timeline
A thorough approach to ERP requirements definition is vital. Setting a budget for your ERP project can be challenging. With requirements in hand, the next step is to carefully determine a budget and timeline for ERP vendor evaluations and make sure that it is well-organized and can be executed properly.
10 Key ERP Selection Criteria/Tips
Business requirements: What do you need your ERP system to do? Internal team of stakeholders from the different areas of the business can be extremely helpful. Each member must first gather feedback from their own teams about how they want to use a new system, including desired features.
ERP features: Different companies and their departments will require ERP features that support their specific processes. But they'll all likely have a common need for an intuitive interface and dashboard that enhances cross-department management and collaboration with easy-to-read key performance indicators (KPIs) and report creation.
Total cost of ownership and ROI: Depends on the chosen deployment model, ERP can be installed on-premises or on cloud. The business is responsible for all upfront hardware (for on-premises one) and software costs, as well as costs associated with implementation, customization, upgrades as the business grows, and security. Additional costs include employee training and ongoing maintenance and support.
System integration: Not only should an ERP integrate disparate business processes, but leading solutions will also integrate with any existing systems and applications a company wants to continue using. And if they do, the new vendor should have connectors available that do exactly what the name implies, preferably enabling real-time synchronization so data among systems is always up to date.
Support and training: The system will require support for initial implementation, ongoing daily operations and employee training. Determine whether the vendor provides all those types of implementation support, its particular skill in your business segment, what escalating levels of support are available to match your business's needs and what response time is guaranteed. Managed support may be an option for a monthly fee.
Implementation: ERP implementation can take anywhere from one month to more than a year depending on whether the system is deployed on-premises, in the cloud or in a hybrid combination.
Vendor industry expertise: Along with evaluating the ERP software, it's a good idea to evaluate ERP vendors for their expertise in your industry.
Technology: Advanced technologies continue to emerge and elevate many of the benefits an ERP system can provide. The cloud, artificial intelligence (AI) and, more specifically, machine learning can all improve business processes; provide deeper, more predictive analysis and insights; and enable a personalized experience, among other benefits. Some systems may also support Internet of Things (IoT) devices, such as sensors and cameras that feed information back to the ERP; blockchain, for conducting transactions and the transparent flow of data; and augmented reality.
Vendor product road map: As a business grows, it's likely to need more from the ERP system than what's included in its initial requirements. As a result, it is important to find out how the vendor will improve, add to and support its product — new versions, features and functions — down the road, as well as how those features will be integrated into the existing software.
Customization: The need to customize will depend on the complexities of your business processes — and even if you don't need it at the time of ERP selection, it may become important as the business grows. It may also guide the type of cloud deployment selected.
Questions to Ask
After the evaluation team has compiled a short list of possible systems, it's time to drill down with more in-depth questions. The answers will further differentiate the vendors and help uncover which system is right for your business.
Business Requirements

Does the system specifically support my business market segment — for example, ecommerce or professional services?

ERP Features

Is the user interface intuitive and consistent across all modules?
Can new features/modules be added as needed as the business grows?

Total Cost of Ownership

How much will an on-premises vs. cloud-based ERP system cost?
How is the software licensed? One-time fee? Monthly subscription? Per-user charges?

System Integration

How will existing data be loaded into the system?
Does the system integrate with other business systems?

Support and Training

What level of support is provided during implementation? 24/7? Is this included in the pricing?
What types of packages are available for ongoing support?

Implementation

How long will the implementation take?
Who are the vendor's implementation partners?

Vendor Industry Expertise

How well does the vendor know my industry?
How long has the vendor been in business?

Technology

How does the software scale?
Can new features be added as my business grows?

Vendor Product Road Map

What new features are planned?
When will they be released?

Customization

Is the ERP system customizable?
What support for customization is provided?
Here's an evaluation template for you to record all relevant details on how to select, compare and evaluate  vendors so you can find the perfect fit.
Source: NetSuite
Help enterprises transform their routine tasks with  solutions
At Introv, our professional team has been helping various types of industries to unleash their business' full potential.  From monitoring the movement of products from distributor to end user, enabling real-time updates of inventory counts automation, to reducing mundane processes and systems – we have the ERP system of your dreams.
Please fill out the form below to receive the download link