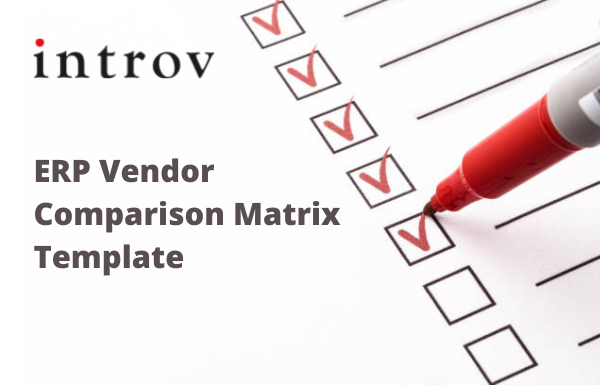 How to select a new ERP system? Any tips?
Are you looking for a new ERP system that best suits your business's needs, or wondering where to start?
There may be more than one route to having a new ERP system, as determined by the different needs of your company's departments and existing IT systems.
Here's are the tips and evaluation template for you to select, compare and evaluate ERP vendors so you can find the perfect fit.

Evaluate and Establish ERP Requirements
An ERP manages all core business functions in a single system. It boosts cross-department collaboration. Given ERP's broad company-wide impact, an internal team of stakeholders from various departments of the business should have a voice in shaping a checklist of ERP requirements before any system or vendor is considered. This evaluation team typically includes senior management, project managers and department heads from accounting, sales, procurement, marketing, and other relevant departments like logistics and human resources, along with IT. Team members' first job is to meet with their own teams to assess their respective goals and individual wish-lists.

Determine Budget and Timeline
A thorough approach to ERP requirements definition is vital. Setting a budget for your ERP project can be challenging. With requirements in hand, the next step is to carefully determine a budget and timeline for ERP vendor evaluations, demonstrations, implementation, and training and make sure that it is well-organized and can be executed properly. Cloud-based ERP typically costs less than an on-premises system, especially considering the upfront outlay.
10 Key ERP Selection Criteria/Tips
Business requirements: What do you need your ERP system to do? Internal team of stakeholders from the different areas of the business can be extremely helpful. Each member must first gather feedback from their own teams about how they want to use a new system, including desired features. From there, the internal team can craft a business requirements analysis document that coordinates the feedback, articulates an overall vision for how the system will bring value — i.e.ROI — to each applicable part of the business and defines what metrics will be used to measure that anticipated ROI.
ERP features: Different companies and their departments will require ERP features that support their specific processes. But they'll all likely have a common need for an intuitive interface and dashboard that enhances cross-department management and collaboration with easy-to-read key performance indicators (KPIs) and report creation. Other common requirements include advanced business intelligence, data-mining capabilities and data security. An ERP system should also be able to integrate data from existing systems and be customizable.
Total cost of ownership and ROI: Depends on the chosen deployment model, ERP can be installed on-premises or on cloud. The business is responsible for all upfront hardware (for on-premises one) and software costs, as well as costs associated with implementation, customization, upgrades as the business grows, and security. Additional costs include employee training and ongoing maintenance and support.Some costs are one-time charges, others are ongoing; and the number of users may also be one of the elements. Total cost of ownership (TCO) is typically steep, so realizing the ROI of ERP generally takes longer than for less business-critical systems.Cloud-based ERP, which is set up, hosted and managed by a cloud vendor, reduces, eliminates, or amortizes many of those costs, potentially lowering TCO and almost certainly speeding up ROI — a main reason why cloud deployment models are popular among growing companies. The ERP system is accessed through the internet, with security managed by the cloud vendor and the software delivered as a service. The vendor also handles software updates, upgrades and maintenance.
System integration: Not only should an ERP integrate disparate business processes, but leading solutions will also integrate with any existing systems and applications a company wants to continue using. And if they do, the new vendor should have connectors available that do exactly what the name implies, preferably enabling real-time synchronization so data among systems is always up to date.
Support and training: The ERP system will require support for initial implementation, ongoing daily operations and employee training. Determine whether the vendor provides all those types of implementation support, its particular skill in your business segment, what escalating levels of support are available to match your business's needs and what response time is guaranteed. Managed support may be an option for a monthly fee.
Implementation: ERP implementation can take anywhere from one month to more than a year depending on whether the system is deployed on-premises, in the cloud or in a hybrid combination. Generally speaking, a business will be up and running the fastest with a cloud-based ERP system since the vendor handles implementation rather than tying up internal resources. A new ERP is typically implemented in phases and will involve the migration of data, which requires data cleansing to ensure data quality. Rigorous testing is essential before going live.
Vendor industry expertise: Along with evaluating the ERP software, it's a good idea to evaluate ERP vendors for their expertise in your industry. The ideal vendor will have a successful history of prior ERP installations for companies in your industry and at roughly the same company size. It also pays to get and check references of satisfied (and perhaps unsatisfied) customers. Financial viability is also important to ensure future support.
Technology: Advanced technologies continue to emerge and elevate many of the benefits an ERP system can provide. The cloud, artificial intelligence (AI) and, more specifically, machine learning can all improve business processes; provide deeper, more predictive analysis and insights; and enable a personalized experience, among other benefits. Some systems may also support Internet of Things (IoT) devices, such as sensors and cameras that feed information back to the ERP; blockchain, for conducting transactions and the transparent flow of data; and augmented reality.
Vendor product road map: As a business grows, it's likely to need more from the ERP system than what's included in its initial requirements. As a result, it is important to find out how the vendor will improve, add to and support its product — new versions, features and functions — down the road, as well as how those features will be integrated into the existing software. Another item to consider is the frequency of updates and patches.
Customization: The need to customize will depend on the complexities of your business processes — and even if you don't need it at the time of ERP selection, it may become important as the business grows. It may also guide the type of cloud deployment selected: single tenant vs. multitenant. The former allows for more customization because the ERP is dedicated to just one company, rather than shared as in the latter model.
Assess ERP Vendors — 30 Questions to Ask ERP Vendors
After the evaluation team has compiled a short list of possible ERP systems, it's time to drill down with more in-depth questions. The answers will further differentiate the vendors and help uncover which system is right for your business.
Business Requirements

Does the ERP system specifically support my business market segment — for example, ecommerce or professional services?
Does the ERP system tick all the boxes in the company's requirements document?

ERP Features

Is the user interface intuitive and consistent across all modules?
Can new features/modules be added as needed as the business grows?
Can the ERP software be accessed from a mobile app?
Are business intelligence tools included for creating reports and mining data?

Total Cost of Ownership

How much will an on-premises vs. cloud-based ERP system cost?
How is the software licensed? One-time fee? Monthly subscription? Per-user charges?
Does the pricing include security, maintenance and updates?
How soon will I see ROI?

System Integration

How will existing data be loaded into the system?
What gateway or middleware software will bridge to legacy systems and data?
Does the ERP system integrate with other business systems?

Support and Training

What level of support is provided during implementation? 24/7? Is this included in the pricing?
What types of packages are available for ongoing support? On site? Phone? What is the guaranteed response time for each type of support?
How is training provided? On-site? At the vendor? By a third party?

Implementation

How long will the implementation take?
Who are the vendor's implementation partners and what is their expertise?
Are testing tools provided with the software?

Vendor Industry Expertise

How well does the vendor know my industry?
How long has the vendor been in business?
What is the installed base of successful implementations? How many of those customers are in my market segment?
Can the vendor provide customer references?

Technology

How does the software scale? Can new features be added as my business grows?
Does the ERP system make use of AI and machine learning technologies for advanced data processing and analysis, personalization and process improvements?
Does the ERP system support IoT, blockchain and augmented reality?

Vendor Product Road Map

What new features are planned? When will they be released?
Does the vendor publish updates on a prescribed schedule? Is there an additional charge to upgrade to the new features?

Customization

Is the ERP system customizable?
What support for customization is provided? Are Application Programming Interfaces (APIs) available?
Here's an evaluation template for you to record all relevant details on how to select, compare and evaluate ERP vendors so you can find the perfect fit.
Download the evaluation template now by filling below form and our team will be more than happy to connect with you soon to share more relevant information on replacing or having a new ERP system.
Source: NetSuite
Help startups, unicorns, small businesses and midsize enterprises, listed companies and MNC transform their routine tasks with sustainable solutions
At Introv, our professional team in Hong Kong and Taiwan have been helping various types of industries to unleash their business' full potential including retail, startup, food and beverage, finance, hospitality, eCommerce, property (real estate) management, wholesale, manufacturing, supply chain and procurement etc.  From monitoring the movement of products from distributor to end user, enabling real-time updates of inventory counts automation, to reducing mundane processes and systems – we have the ERP system of your dreams.

中文版:
企業如何選擇ERP系統?十大評估重點和廠商評估表/檢查清單下載
Related Articles:
Oracle NetSuite vs. QuickBooks: Features Comparison
IT Executives: Need for True Cloud ERP – Switching from Microsoft Dynamics to NetSuite
Please fill out the form below to receive the download link