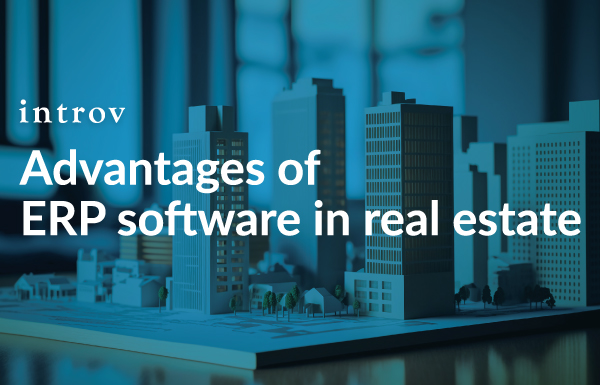 Real estate ERP software implementation ensures success and growth by providing numerous benefits that give you a competitive edge. The advantages of utilizing ERP software in the real estate industry are various, including: 
1) Compliant management 
Strict adherence to rigorous standards and legal compliance is important in the real estate industry to maintain your professional license and establish unwavering credibility. 
2) Better Efficiency 
Implementing ERP software in businesses brings operational streamlining through the automation of repetitive tasks and the establishment of a centralized data hub. This leads to improved efficiency, minimizing manual errors and boosting accuracy. 
3) Real-time Insights 
Enterprise Resource Planning (ERP) software empowers businesses with real-time analytics including financial performance, project advancement, and customer behavior.
Leveraging this data-driven decision-making capability, businesses can gain a distinct competitive advantage in the market. 
4) Scalability 
ERP software offers scalability, ensuring seamless growth alongside the business. It can be tailored to adapt to evolving requirements as the business expands, ensuring a customized solution. 
5) Collaboration 
Centralizing information through ERP software enables a shift towards collaborative management over top-down approaches. By enabling access to information, teams become autonomous, efficient, and driven toward excellence. 
6) Better Customer Service 
By leveraging ERP software, businesses can boost customer service through a detailed understanding of customer interactions. This empowers the delivery of personalized experiences that effectively meet different customer needs. 
7) In-App Notifications
Since almost everyone always has a smartphone on them, businesses have a tremendous opportunity to keep in regular contact with their clients. By enabling push notifications, customers can receive immediate updates on the newest deals, new goods and services, deadline reminders, forthcoming events, and more.
Every real estate business strives to deliver high-quality services and meet customer demands promptly. Utilising ERP software can streamline operations and enhance efficiency. Among the top real estate ERP software available in the market today are Oracle NetSuite X Introv Real Estate Solution which offer comprehensive solutions that meet various business management requirements without extensive customisation.
These real estate tools can be stand-alone applications or all-in-one platforms, providing effective means to enhance lead generation, conversion, and closing rates. When picking the right solution, consider your team's preferences, team size, and existing technology to ensure a well-informed decision. 
Learn more: https://t.ly/_2FNP