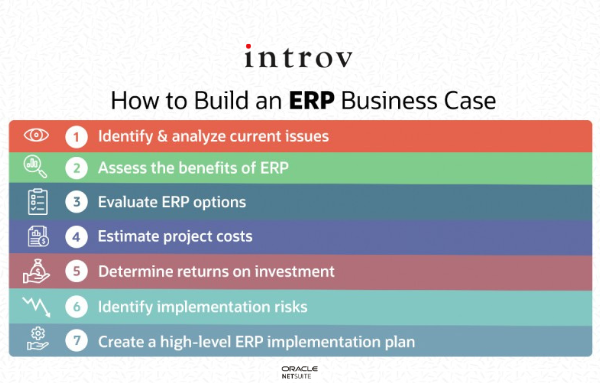 Building an ERP Business Case: How-To & Template
Streamlining and unifying business processes with ERP allows business to scale without demanding new administrative and IT hires. For many businesses struggling to manage and pull together three separate silos of finance, sales, inventory and procurement, building an ERP business case to justify enterprise resource planning software change and implementation including return on investment and more is very crucial. Today, let Introv share more on how to develop a solid ERP business case to convince your boss to give you an adequate ERP budget and internal resources.
Any thoughts? This isn't just a PowerPoint you throw together, but a compelling, thorough, numbers-based detailed analysis that is a process of researching and documenting all of the potential benefits (both tangible and intangible), putting KPIs behind it all and weighing the benefits of ERP against the costs. The focus is how the investment will deliver true business value—why the project is needed and what benefits it will offer when finished.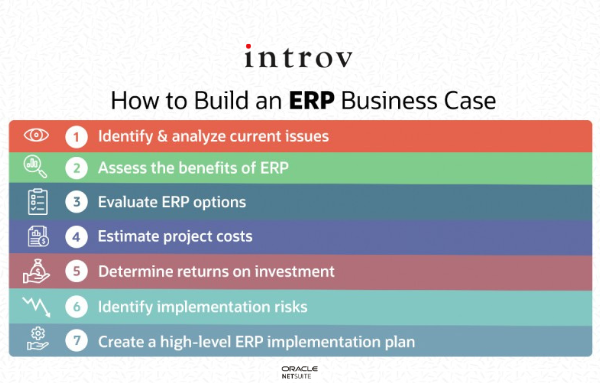 Step 1: Identify and analyse current issues.
To illustrates the benefits, costs, opportunities and risks of launching an implementation project, the existing business processes of an enterprise are everything you need to know. You may want to visit users from all departments to gather data points and issues around the existing ERP system or IT landscape that they are engaging with in the process daily.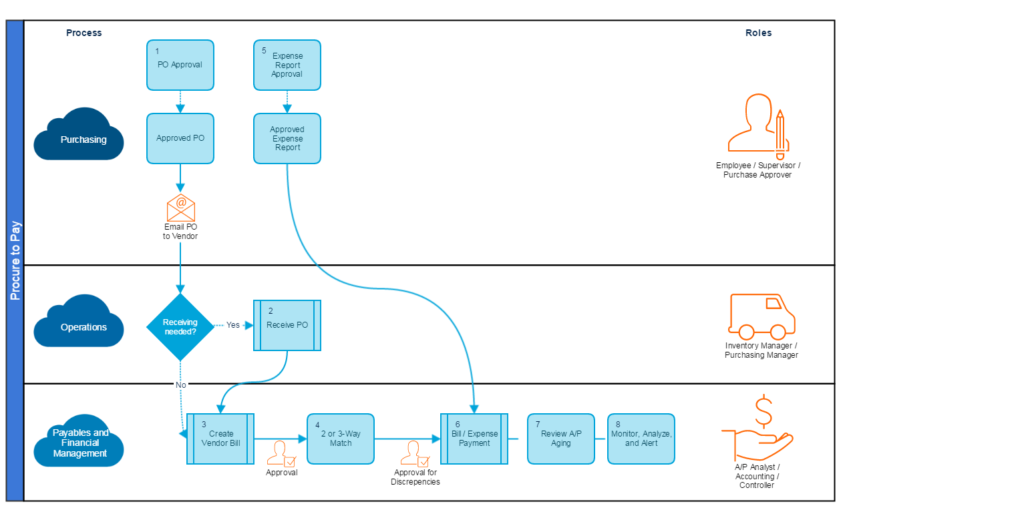 Step 2: Assess the benefits of ERP.
To address the main pain points identified in the previous step, you may examine each pain point to analyse how the ERP system will address the issues by breaking down data silos and adds efficiencies through automation technology..
The types of benefits that companies realise by implementing ERP typically include:
Greater efficiency and productivity: The transition to ERP typically enables organisations to automate manual steps and eliminate the need to enter data, providing measurable reductions in the time needed for processes. The resulting improvements in productivity can also enable the organisation to handle business growth without hiring more staff.
Optimised inventory levels: ERP systems give the organisation a clear view across the supply chain, facilitating better demand forecasting and helping the organisation optimise inventory. That can reduce inventory costs while ensuring the company can meet demand in a timely way, keeping customers happy.
Improved customer service: With better visibility into customer information and orders, the organisation can respond more quickly to customer requests and solve problems more easily.
Better decision-making: Managers have access to more complete data from across the business in real time, gathering data from sales, financial and inventory. Executives can use this information to make more informed decisions and take advantage of new opportunities.
Related Article: Cloud ERP comparison: Oracle NetSuite VS SAP Features, Pricing and Support
Step 3: Evaluate ERP options.
Now you have a wide variety of ERP solutions to choose from. They include cloud-based ERP systems, which you access over the internet and generally pay for on a subscription basis. There are also on-premises systems that an organisation installs in its own data centre and manages itself. Hybrid ERP is also a possibility.
Because organisations typically rely on the ERP system to run many aspects of the business, factors such as support and the long-term viability of the supplier are important considerations.
Related Article: Oracle NetSuite vs. QuickBooks: Features Comparison
Step 4: Estimate project costs.
You better check the cost of the existing IT system on maintenance fee, set up cost etc, and the details of the service-level agreement (SLA) so that you may have a clearer picture on what key factors should be evaluated during the process.
Below are some common factors to consider the costs of implementing an ERP new system:
Software configuration and deployment: Systems usually include the installation cost and customization cost, to make sure that it fits your business needs, for which you'll probably need professional help—or someone on your IT team who has experience and expertise with the system you're implementing. If you choose an on-premises system, also include the cost of on-site hardware(s) and software licenses, plus the cost of the expertise needed for installation and maintenance from time to time.
Process redesign: To make sure your team is making the most of the technology, companies generally either need professional help or they need to allocate internal resources to determine how to redesign business processes. Data migration—moving data from legacy systems into the ERP is a time consuming and tedious process. Determine how much history you need in the new ERP and how you can still get historical information from the previous systems. Most companies take no more than 3 years of data forward into the new ERP to help reduce implementation costs.
Reporting:  If you are having trouble generating a specific report using Excel or Word, you should know that a good ERP solutions will include a decent selection of standard reports; some of them allows users to create customised reports in a few steps.
Training: Common ERP quotations include costs for training users on how to use the system.
Step 5: Determine ROI (Return on investment).
ERP systems deliver value to a business in many ways. Above all, they provide leaders and key decision-makers with end-to-end visibility across their company's operations, so they can make informed choices regarding business strategy, growth opportunities and future investment.
There is no one-size-fits-all way to maximize the ROI of an ERP implementation, as every business has specific goals and resources to work with. Quantifying that ROI value, is crucial to building a business case that justifies an ERP investment in the first place. . Calculating the ROI of an ERP implementation is a complex process involving a detailed analysis of the benefits and costs following deployment. The formula to calculate ROI is as follows: (total value of investment – total cost of ownership) / total cost of ownership) x 100. The higher the ratio, the higher the ROI.
Formular and ROI calculation sample:
Consider the example of a consumer goods manufacturer that implemented a cloud-based ERP system, paid via yearly subscription. The company needs to calculate the ROI of its new solution three years after going live, based on an upfront implementation cost of $50,000 and yearly fees of $100,000. That yields a three-year cloud-equivalent TCO of $350,000. Of course, this example is simplified to fit in this article; the manufacturer's total cost might also include the cost of training employees to use the new ERP solution, implementation partner fees and others, in addition to upfront installation and yearly licensing fees, depending on the specific use case and ERP deployment model.
As for returns, the manufacturer has chosen to focus on hard costs, so it calculated the incremental sales growth, higher margins and lower production costs it can attribute to its ERP system, as shown in this table:
| Benefit | Year 0 | Year 1 | Year 2 | Year 3 | Total |
| --- | --- | --- | --- | --- | --- |
| Sales growth | $0 | $50,000 | $80,000 | $100,000 | $230,000 |
| Productivity gains | $0 | $30,000 | $40,000 | $90,000 | $160,000 |
| Cost savings | $0 | $60,000 | $100,000 | $115,000 | $275,000 |
| Total | $0 | $140,000 | $220,000 | $305,000 | $665,000 |
The value provided by the software over this three-year period (ignoring inflation) is $665,000.
Plugging the total value of gains attributed to ERP and the manufacturer's simplified total cost into the ERP ROI formula, we get ($665,000 – $350,000 / $350,000) x 100, which equals a 90% return on investment.
It's important to emphasize that the gains in this example are also simplified. The total value a business can attribute to ERP will depend on the nature of the business and might include improvements in product, transportation or inventory carrying costs, increased order volumes, reduced head count and lower administrative costs. In addition to these hard returns, a company may also derive intangible benefits from its ERP implementation, like improved employee morale, which should also be factored into ROI calculations.
Step 6: Identify implementation risks.
An ERP implementation involves people as well as technology. Accordingly, it may face people-related challenges, such as resistance to change, as well as technical obstacles. Common ERP implementation challenges include:
Project management: ERP implementations entail multiple phases: discovery and planning, design, development, data migration, testing, deployment, support and post-launch updates. Each phase brings critical tasks, and all elements need to stay on track. It can be incredibly challenging, because each department is juggling its ERP project responsibilities with multiple other priorities.
Project planning: Organisations often underestimate the time, the budget and the importance on the scope of work for a successful implementation. To avoid all these issues, a realistic project plan is suggested to keep the project on track.
Change management. An ERP implementation involves more than just switching to a new software system. It typically means overhauling business processes to take advantage of the efficiency and productivity improvements possible with the new solution. This requires a shift in mindset and a change in everyday work processes for many employees, which presents typical change management challenges.
Resistance to change can be a formidable roadblock; getting buy-in from leadership and stakeholders across departments very early in the implementation process is crucial to a successful implementation. Communicate the features and advantages of the new ERP to all stakeholders throughout the implementation process, especially end users on the front lines. And make sure all users receive comprehensive training and support to help smooth their paths to adoption of the system.
Step 7: Create a high-level ERP implementation plan.
Any efficient ERP implementation plan requires a roadmap, which often comes in the form of a checklist of tasks that helps keep the project plan moving along, from pre-implementation activities like research and requirements building to final implementation phases like maintenance and support.
Both the customer and vendor need to work through the checklist elements to ensure that the ERP implementation runs smoothly and gets the organisation up and running efficiently.
Related Template to download:10 Tips to Select and Compare ERP Vendors
Source: NetSuite
Help startups, unicorns, small businesses and midsize enterprises, listed companies and MNC transform their routine tasks with sustainable solutions
At Introv, our professional team in Hong Kong and Taiwan have been helping various types of industries to unleash their business' full potential including retail, startup, food and beverage, finance, hospitality, eCommerce, property (real estate) management, wholesale, manufacturing, supply chain and procurement etc.  From monitoring the movement of products from distributor to end user, enabling real-time updates of inventory counts automation, to reducing mundane processes and systems – we have the ERP system of your dreams.