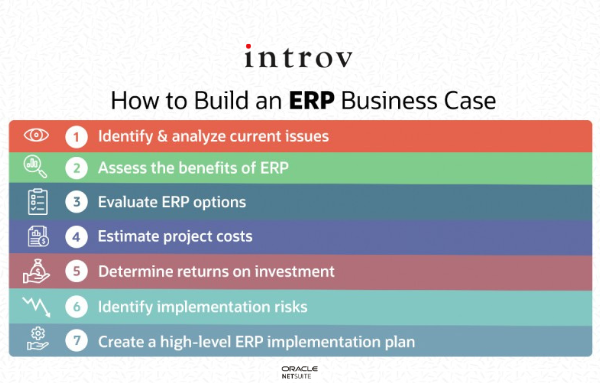 Building an ERP Business Case: How-To & Template
Streamlining and unifying business processes with ERP allows business to scale without demanding new administrative and IT hires. For many businesses struggling to manage and pull together three separate silos of finance, sales, inventory and procurement, building an ERP business case to justify enterprise resource planning software change and implementation including return on investment and more is very crucial. Today, let Introv share more on how to develop a solid ERP business case to convince your boss to give you an adequate ERP budget and internal resources.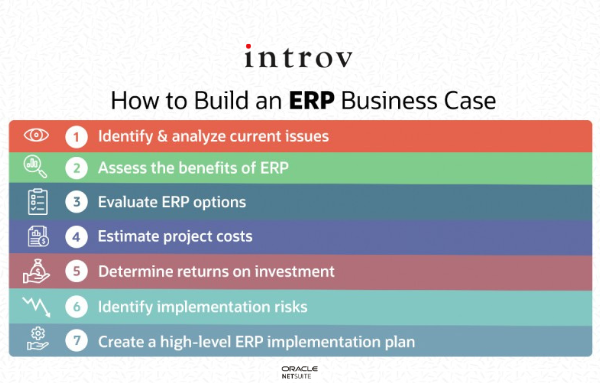 Step 1: Identify and analyse current issues.
To illustrates the benefits, costs, opportunities and risks of launching an implementation project, the existing business processes of an enterprise are everything you need to know.
Step 2: Assess the benefits of ERP.
To address the main pain points identified in the previous step, you may examine each pain point to analyse how the ERP system will address the issues by breaking down data silos and adds efficiencies through automation technology..
Step 3: Evaluate ERP options.
Now you have a wide variety of ERP solutions to choose from. They include cloud-based ERP systems, which you access over the internet and generally pay for on a subscription basis. There are also on-premises systems that an organisation installs in its own data centre and manages itself. Hybrid ERP is also a possibility.
Step 4: Estimate project costs.
You better check the cost of the existing IT system on maintenance fee, set up cost etc, and the details of the service-level agreement (SLA) so that you may have a clearer picture on what key factors should be evaluated during the process.
Step 5: Determine ROI (Return on investment).
ERP systems deliver value to a business in many ways. Above all, they provide leaders and key decision-makers with end-to-end visibility across their company's operations, so they can make informed choices regarding business strategy, growth opportunities and future investment.
The total value a business can attribute to ERP will depend on the nature of the business and might include improvements in product, transportation or inventory carrying costs, increased order volumes, reduced head count and lower administrative costs. In addition to these hard returns, a company may also derive intangible benefits from its ERP implementation, like improved employee morale, which should also be factored into ROI calculations.
Step 6: Identify implementation risks.
An ERP implementation involves people as well as technology. Accordingly, it may face people-related challenges, such as resistance to change, as well as technical obstacles.
Resistance to change can be a formidable roadblock; getting buy-in from leadership and stakeholders across departments very early in the implementation process is crucial to a successful implementation. Communicate the features and advantages of the new ERP to all stakeholders throughout the implementation process, especially end users on the front lines. And make sure all users receive comprehensive training and support to help smooth their paths to adoption of the system.
Step 7: Create a high-level ERP implementation plan.
Any efficient ERP implementation plan requires a roadmap, which often comes in the form of a checklist of tasks that helps keep the project plan moving along, from pre-implementation activities like research and requirements building to final implementation phases like maintenance and support.
Both the customer and vendor need to work through the checklist elements to ensure that the ERP implementation runs smoothly and gets the organisation up and running efficiently.
Source: NetSuite