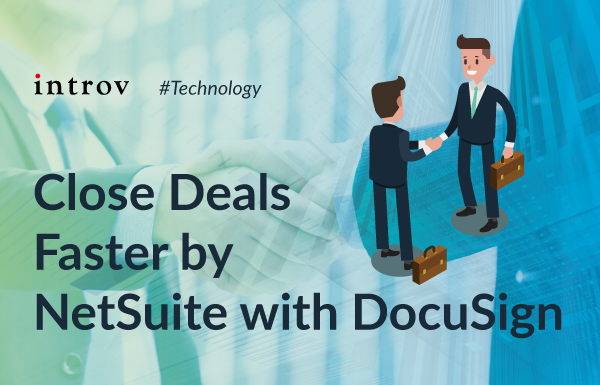 DocuSign customers report average savings of $36 USD per document.
DocuSign and NetSuite have been partnering to create a platform that evolves the agreement process and improves Regulatory Compliance in the Cloud. Connect DocuSign eSignature into your core NetSuite business processes to quickly and securely send and process agreements where you already work.
With eSignature connected to your NetSuite ERP and CRM systems, your business can reduce operational cost in the long run, increase compliance and improve the experience of customers, vendors, partners and employees.

Key Features
Support for Estimate, Opportunity, and Customer objects
Add "Send" and "Sign" buttons to any object (native or custom)
Track the status of documents
Configure and customize to any business process using DocuSign APIs
To cite for an example: Click the "Send with DocuSign" button from an Opportunity, Estimate, Customer, or custom object to send documents out for signature, populated with the appropriate recipient information. Configure and click the "Sign with DocuSign" button to sign or include additional information to a document already attached to a record.
The application provides an audit trail of edits and notifies every signer when a contract has been changed – giving your sales users visibility into the process. All signed documents are attached to the appropriate record after they are complete.
It is commonly known as the easiest way for users of NetSuite to close more deals by collecting, tracking, and storing signatures from customers within minutes.
Source: NetSuite/DocuSign