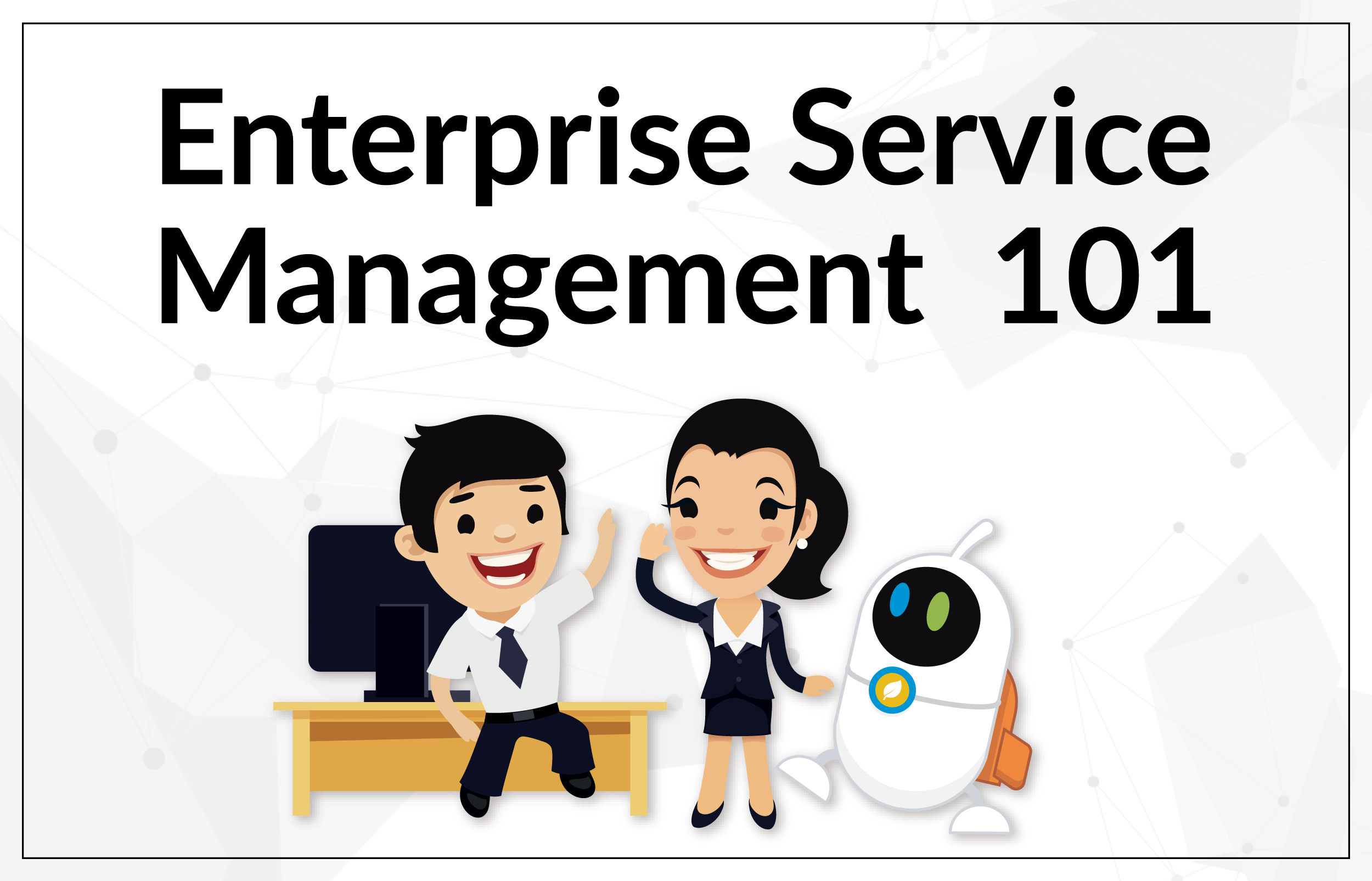 Service management has often been perceived as IT Service Management (ITSM), a well-known term that refers to the concept of maximizing business values for organizations through the use of information technology by delivering and obtaining value from IT services. Within an enterprise, departments like HR and facilities provide services to internal and external customers, but lack a holistic approach to manage the end-to-end service lifecycle. The ITSM principles have been adopted to shape Enterprise Service Management (ESM). In this article, we aim to provide you an introduction on what Enterprise Service Management is and how it could be beneficial to your organisation.
What is Enterprise Service Management (ESM)? 
ESM Solutions offer an Improved platform for enterprise services. ESM solutions extend ITSM platform capabilities beyond technology services to also address business-centric use cases (e.g., facilities, HR, and travel); managing service demand and supply through a common platform and portal; a customizable service catalog; and workflow automation through platform-as-a-service (PaaS)/low-code development tooling.
As operations in the workplace involve multiple departments in between the processes, ESM aims to achieve customer satisfaction through shared service management and shared processes. Take onboarding as an example where it is an HR process, IT department will also have their departmental operation, such as recording a laptop being taken out of inventory and the assets being assigned to the new employee. With such purposes in mind, case management with SLA and workflow automation become the primary characteristics of ESM to ensure that the end-to-end service lifecycle is executed thoroughly and can be traced by not only the fulfillers but also all other involved parties.
From the user experience perspective, having several different platforms for employees and customers to report issues and initiate service requests would not be effective. To streamline the process, it is crucial for organizations to provide a unified platform or portal that allows customers to perform all necessary tasks in one place.
How does Enterprise Service Management help your organization?
Take a few moments to deep dive into the operations of your organization. It is easy to notice most processes cannot be separated from service. From HR operations like issuing verification letters for travel visas, to a facility personnel responding to elevator malfunction reports, service is the key across business functions of an organization.
Oftentimes we could handle these issues fine with just emails and phone calls, but the lack of a systematic approach decreases the visibility and accountability of the issue.
In such cases, a powerful ESM solution not only helps your organization track the progress of each process step with SLA measurements, but also enables all involved parties to understand the reason why an operator is stuck at a specific process so that escalation could be managed to sooner resolve the issue. Why does it matter? Because in the end when an issue could be resolved sooner, the one and only outcome you have is happy employees and customers.
From the unified portal for navigating various service requests to streamlining processes across departments, ESM could drive greater engagement, productivity and satisfaction while lowering costs for organizations. With the complete service catalogue on the platform, the benefits below will be further brought to the employees:
The platform acts as a one-stop shop to enable employees and customers to request services anywhere anytime
Organizations could offer better process transparency to their employees while preventing operational silos
Depending on the ESM solution, some may even offer a centralized area on the portal to keep all information in place so that employees and customers could look for information on their own. This self-service practice not only provides employees and customers the ability to answer their own inquiries, but also saves the communication turnaround time required in the conventional email and phone call methods in between the customer and the customer service personnel.
This offers convenience while increasing their satisfaction level in return. It is no wonder that 65% of employees in the digital workplace believe a unified platform would help them be more productive.
ESM solution for innovative transformation
Across the numerous ESM solutions in the market, it is best to consider one that would bring you the most innovative features with usability and extensibility for the future in mind. ServiceNow, who has been named a Leader in the Forrester Wave™: Enterprise Service Management, Q3 2018, is a global leading ESM vendor.
In its latest New York release in September 2019, ServiceNow offers tremendous innovative changes to its platform which offers Natural Language Understanding (NLU) capabilities to its Virtual Agent, the phenomenal chatbot which caters the needs of employees and customers. The list does not stop there – with its existing machine learning capabilities in previous releases, these features have been enhanced in the latest version to carry out greater abilities for future trends prediction. Thanks to the platform in the cloud, employees could make use of its consumer grade Now mobile app to request for different services and look for information anywhere anytime. Due to its platform nature, organizations could further build custom applications to solve any business cases they have difficult with. With these powerful backbones and capabilities ServiceNow has to offer, it is unimaginable to know where the limits are and no wonder ServiceNow was ranked the most innovative company by Forbes, among other multinational corporations of all industries.
Key Takeaways 
ESM adopts the ITSM methodologies to manage and handle service lifecycles
Characteristics of ESM consists of case management with SLA, unified platform with self-service capability, and offers powerful integration and workflow foundations to support and streamline complicated cross-departmental processes
A successful ESM implementation will bring benefits such as greater employee and customer satisfaction level, while lowering operating costs of organization
With many powerful ESM solutions in the market, it is best to go with an innovative solution equipped with latest technologies such as NLU, machine learning, and consumer grade mobile apps
Not sure where to begin with? Work with our technology consultants for a Free Consultation.
Subscribe our newsletter to stay tuned on all related industry trends and emerging technologies.