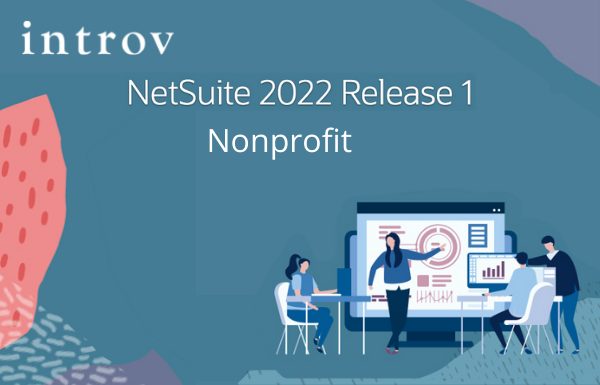 In NetSuite 2022 Release 1, businesses around the globe can create efficiencies and visibility into financial operations, keep employees engaged and navigate the new supply chain disruptions. For general features added this year, please find the overview here.
NetSuite 2022 Release 1 gives nonprofits the tools they need to easy manage online donations and management to embrace the opportunities presented by digital fundraising and operations.
For Nonprofit:
Intercompany transaction matching: professionals can now easily pair standalone intercompany credit memos and bill credits to eliminate the requirement to create a full intercompany purchase order-sales order workflow to pair the two.
Any transactions impacting the cash flow can be customized in the Cash 360 dashboard: Says capital expenditures and major non-cash donations, can now be customized to make the cash projection.
Payroll costs (salary + fringe benefits) automation: the expenses can be allocated to a program project or grant to give crucial financial visibility into a program or project.
Recurring transactions automation: For nonprofits with recurring donors, scheduled credit card payments for recurring transactions can now be automatically created based on user specified dates, both expediting and improving accuracy in the process.
Human Resource – Performance Management: Managers and their direct reports now are able to view any changes to or progress on a goal in one place in SuitePeople. A monthly email can be set to keep managers up-to-date on their team's achievements, goal progress and on areas that need their attention, further improves organizational alignment.
For new functionality designed to help manufacturing, wholesale, distribution, retail services, software (e.g. startups), nonprofit business turn operational pressure into profit, please check below:
Software Companies/Startups
Manufacturing
Wholesale Distributors
Retail Services
Professional Services Project Management
How is your business adapting to change? Our team will be more than happy to connect with you to share further on how above can help your business grow. Get in touch with us now.

Source: NetSuite