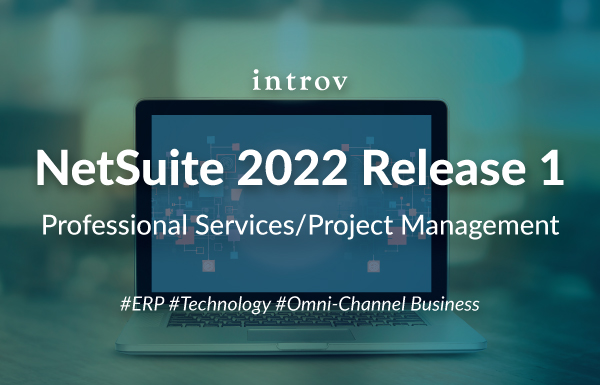 In NetSuite 2022 Release 1, businesses around the globe can create efficiencies and visibility into financial operations, keep employees engaged and navigate the new supply chain disruptions.
More business for professional services firms usually means bringing on more skilled project managers and consultants, but there are more challenges out there, more than ever. To help professional services/project management teams more productive, clients more satisfied, data more connected and projects more profitable, here are the new enhancements from NetSuite 2022 Release 1.
For Professional Services/Project Management:
Single Point of Project Control: Users can pull data from across the entire Suite and presents it in a workspace that's custom-tailored to meet the needs of busy project managers by Project 360 dashboard. 360-degree view of each project including actuals vs. budget, project profitability, billing and revenue, project team calendars, consultant utilization, schedules, client contact details and more can be all displayed in one dashboard.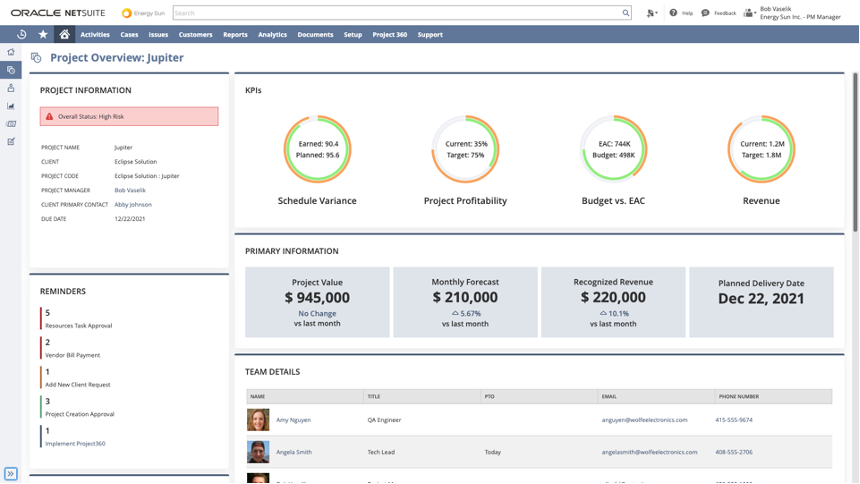 Customizable invoice presentation templates: Users can configure exactly the line-item format that each client requires. Include granular backing sheets on time posted by each consultant, subcontractor costs and more.
Labor expense allocation to the assigned program, project or grant. A more accurate capture on the labor costs for project profitability reporting can be seen in a more simpler way.
Intercompany journal entry automation: Cross-charge revenue between subsidiaries can now be automatically  created under a more efficient and less error-prone process.
Unified view on cash forecasting process: With the new Cash 360 dashboard, users can run "what-if" scenarios and see cash inflows and outflows by week based on current transactional data as well as projected collections and disbursements. Team can select a category of investment, such as payroll for a round of raises; define the data period to use, say monthly; and the desired increase, say 3%, and drill down into any details if needed.
Estimate at complete capability: Users can continually project the final cost of a job to the customers so that there are no surprises and make midstream adjustments to stay within budget even there are fluctuations in labor and materials prices under the economic climate.
Goal management: A history of changes to every goal can be reviewed in one page even employees delete unapproved goals or remove accidental or unwanted goals. Advanced scheduling capabilities empower management with flexible review timeline and the ability to automatically schedule check-ins at given time intervals from start or hire date, such as 30, 60 or 90 days.
Performance-related information automation: Automated monthly email can be generated to an individual or a team on their teams' achievements, goal progress and areas that need attention to avoid having problems that affects customers.
Multiple datasets custom records can be easily linked without coding: Users can now visualize for items like budgets vs. actuals, forecast vs. actuals and planned vs. actuals through combining different datasets.
How is your business adapting to change? Our team will be more than happy to connect with you to share further on how above can help your business grow. Get in touch with us now.
Source: NetSuite