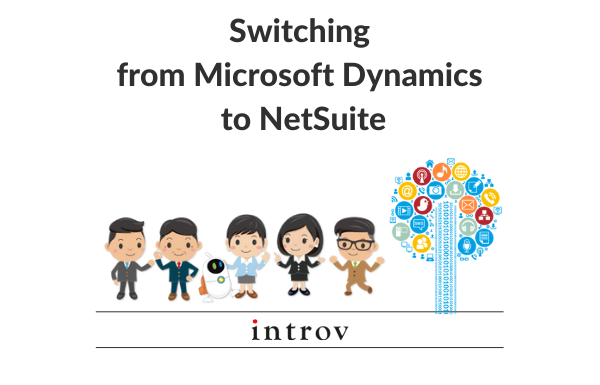 IT executives express need for True Cloud ERP: See Why Customers are Switching from Microsoft Dynamics to NetSuite to Drive Growth
You may find below inspiring if you are Microsoft Dynamics user.
"We couldn't achieve our plans of growing to 1,000 employees in 30 locations and becoming a multi-billion-dollar company by running on Microsoft Dynamics AX and disparate systems." Amobee
"NetSuite has given us the ability to choose our growth path. We're able to make better decisions on how and where to drive growth using real-time data." – Jeffrey Smith, SVP Operations and Strategy, Golden Star Technology
"NetSuite is a perfect balance of broad functionality and ease of use. It is by far the easiest ERP system I've used." – Ecoark Holdings Inc.
Traditional ERP systems are part of a fragmented, complex IT infrastructure that delivers extra workload, or even disruption rather than efficiency according to many users. Traditional ERP systems like Microsoft Dynamics are just one part of an organization's business system. Companies usually deploy other systems to automate support, sales, warehousing, ecommerce, professional services and finance and accounting functions. With different processes running on many different systems, it is difficult or impossible to report to C-Level management or the Board of Directors on:
• Obtain a clear picture of bookings, billings and backlogs.>
• Decrease spreadsheet-based accounting.
• Scale up to support growth for SMEs, MNCs and listed companies.
• Provide visibility to everyone in the organization.
• Reconcile different versions of data.
• Integrate front- and back-office processes.
• Have a clear audit trail and understand the business in real-time.
Throughout interviews, senior IT executives shared their technology evaluations and success stories, including why they switched from on-premise to cloud-based systems, how the implementation process occurred, benefits they have experienced and lessons learned.
Download the White Paper "IT Executives: Need for True Cloud ERP – Switching from Microsoft Dynamics to NetSuite" now by filling below form and our team will be more than happy to connect with you soon to share further and provide related quotation based on your system requirement.
Help startups, unicorns, small businesses and midsize enterprises, listed companies and MNC transform their routine tasks with sustainable solutions
At Introv, our professional team in Hong Kong and Taiwan have been helping various types of industries to unleash their business' full potential including retail, startup, food and beverage, finance, hospitality, eCommerce, property (real estate) management, wholesale, manufacturing, supply chain and procurement etc.  From monitoring the movement of products from distributor to end user, enabling real-time updates of inventory counts automation, to reducing mundane processes and systems – we have the ERP system of your dreams.


中文版本:企業為何爭先恐後離開 Microsoft Dynamics 轉換到 NetSuite
Related articles:
Cloud ERP comparison: Oracle NetSuite VS SAP Features, Pricing and Support
A Guide for Business Leaders like CFO/CIO/COO: Oracle NetSuite ERP Implementation Plan and Suggestions
CEO, CFO and CIO Mindsets and Concerns on ERP: Oracle NetSuite for Electronic Manufacturers
Please fill out the form below to receive the download link