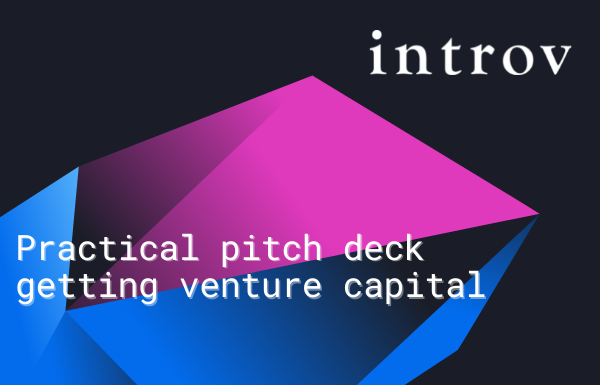 Calling for Startups!
Do you have any ideas on "How to Get Venture Capital (VC) Funding"?
Entrepreneurs learn on the way up. Pitching to investors is probably one of the most important missions as an entrepreneur (especially the founder of a Startup). There are major differences between VC and PE funding. Let's focus on venture capital at the moment and we will cover the Private Equity (PE) funding in another episode.
How to tell if your startup is ready to pursue venture capital funding
In this guide, we will share everything that startups need to know. We'll cover the basics of VC, provide general tips on how to know if it's the right funding option for your company and give an overview of the process. We'll also explain the first three tiers of venture capital deals:
Pre-seed or Startup;
Seed;
First-round.
We'll further explore how to discern if your company is the right type and stage for VC and what VCs look for when making investments so that you can prepare accordingly before you enter that room.  As a startup founder, we will elaborate all the steps that you need to take on the path to VC funding.

Which industries receive the most venture capital funding?
Do you know: not all industries are equal In venture capital? In below guide, we will demonstrate with statistics that a large portion of VC funding is directed at specific industries, but that doesn't mean you should abandon your ship if your startup doesn't belong to one of them. You can still have the venture capital funding in your pocket. It's important to know what you're up against though, and how to find the right VC for your startup in terms of types.
And the most important part is: your pitch deck and presentation! No idea of what a pitch deck is? No worry.  We will walk you through it, you will know everything including how to design your context, how you should allocate your time in each part,  etc. and some excellent sample decks are included! Hurray!
Sneak Peek!
There are four traits that venture capitals looking for in a presenter (I.e. you – founder of the startup).
Calmness
Trustworthiness
Coachability
Assertiveness
Detailed tutorials are in the guide below, which applies to all types of businesses, including Internet services, healthcare, mobile and telecommunications, software, industrial, SaaS and AI (artificial intelligence) startups, etc.
And if you are also interested in knowing more details like VC term sheet, tips on negotiations, special tips from those who has been through 40 rounds of fundings, what to note while closing the VC deal etc. Download the guide to unlock all you need to know now to expedite your success.
——————————————————————–
A healthy financial upside is what all VCs are looking for. With robust analytics and reporting capabilities, ERP system can equip you and your team to quickly and easily generate reports and revenue projections that matter in market conditions and the actual operational cost of raw materials, delivery, and each step of the manufacturing/supply chain and sales processes. Risk factors can also be analyzed and compared within the ERP unified system.
"As an integrated application, NetSuite is ideally suited for startups with a clear growth path. It maps all relevant business processes and can be easily customised. Its ease of use and scalability are further benefits for young companies." Frank Stuhlmüller, Chief Financial Officer, FELS Group GmbH.
NetSuite ERP is a true cloud solutions that serves as a trustworthy source of information for all VCs. With more than 27,000+ companies worldwide using this system, this leading integrated cloud business software suite with functions like business accounting, ERP, CRM and ecommerce is something that every great entrepreneur should explore.
Interested to know more on how it benefits your high-growth company? At Introv, we offer an award-winning scalable Cloud ERP (Enterprise Resource Planning) solution that unifies your entire business. With over 20+ years of experience, from understanding users' requirements to managing the system implementation, enabling real-time updates of finance and accounting processes on a regular basis, to reducing mundane processes and systems – we have the ERP system that drives you toward your dreams.
Get in touch with us now. Let us listen to your pain points and we will design the best system for you to grow your business.
中文版本:【中小企及初創融資】創業募集投資機構資金(VC)商業計畫書指南

Enquiries:
Contact us online  | enquiries@introv.com
Source: Oracle NetSuite
Please fill out the form below to receive the download link