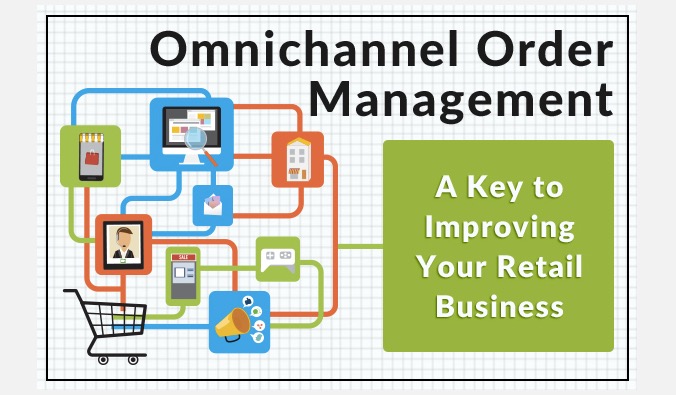 Omnichannel Order Management
Perhaps you are familiar with this scene: Orders come in and your employees have to coordinate delivery based on closest fulfilment locations, lowest cost shipping options, determining which orders should be split and/or bundled, all while making sure fulfilment centres maintain safety stock.
Handled manually, this tedious, time-consuming process has considerable room for human error.
So how can you, a retailer who cares about your customers, better manage all the components of your order/delivery processes?
Optimising Omnichannel Order Management
Many leading retailers have found ways to manage complex fulfilment decisions through an omnichannel order management system (OMS).

6 Ways Omnichannel Order Management Improves Your Business:

1. By automatically locating the closest fulfilment centres and identifying available stock, your OMS ensures that customers receive their orders accurately, quickly and in the most cost-effective way.
2. While there will be times that troubleshooting requires human intervention, an OMS working in the background means your employees can focus on meeting your customers' exact needs. Not only can specific customer problems and requests can be authentically handled in a personalised and customised way, the solutions can be fed back into your OMS to further optimise future processes.
3. A good OMS can integrate and utilise the data that comes in from internet "chatter," i.e. comments people make about your company on social media. While ignoring your customers on social media is rarely advisable, you can rest assured that you're no longer just at the mercy of a "bad tweet" because a customer feels ignored. As soon as your OMS detects a complaint online, an employee can be instructed to contact the customer directly while the OMS identifies and attempts to resolve whatever issue the customer has. By making sure your customers feel listened to, you can distinguish yourself from your competition.
4. In a non-OMS environment, much time and energy is spent assessing and updating stock. Storage often comes at a premium and rarely does a retailer want to pay extra solely for "just in case" safety stock. With an OMS, you have the details of all orders coming in and going out, while your system can "keep an eye" on your overall inventory. This type of information benefits from its scalability. You'll be able to identify particular inventory and delivery issues and patterns.
5. Employees who had previously focused on processing orders can shift their attention towards value-added solutions – i.e. solutions that come about specifically from two humans trying to solve a problem. An OMS works wonderfully with whatever data it has, but it might not be able to brainstorm the way a human can. And while the ROI on value-added solutions may be a bit hard to measure, it is clearly another way to build how your customers perceive your business.
6. With the standardisation that an OMS can provide, your order fulfilment/troubleshooting work can be handled by any of your employees. In other words – allowing for distribution of work and management of employee capacity.
Are you ready to master your omnichannel order management process?
Looking for advice on the best OMS applications?
Take a look at how we've been assisting GRANA, a fast-growing online fashion retailer to expand globally through omnichannel order management.
Be sure to join us at our upcoming "Make E-commerce Seamless with Omnichannel Management" Workshop!