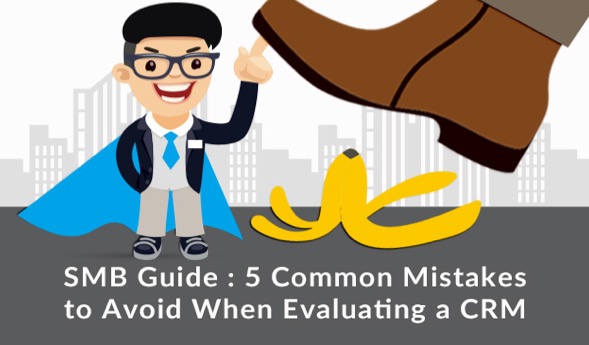 When we and our Partner Salesforce worked with SMBs, we came across SMBs sharing their challenges of long-time struggle to promote business growth. As SMBs, investing in customer relationship management (CRM) tools is a time consuming but critical step in order to transit to the next phase of business growth. What you can enjoy in return is increased productivity, greater visibility of your customers and the ability to scale. With all these dreams coming true, why do some small businesses still hold back from taking this key step? Why does CRM investment always fall down the priority list?
Here we'll look into five common mistakes SMBs have and provide guidance on how to avoid them.
1.   Price vs Feature & Functionality
Facing limited resources and budgets, some SMBs might turn to cheap tools for CRM.  In fact, paying less for a solution can be attractive. But, how do they compare in terms of features and functionality? If one solution is far cheaper than its competitors, there's a good chance there's a reason for it. Understanding features and functionalities is a must.  Take some time to research whether a solution covers your needs, and also what else can it do – although you don't need them now, you might need them in the future. For example, does it support mobility, marketing automation or social listening? And does it allow users to collaborate around customer records and files?
What can you do?
Do check out industry analysts like Gartner which provides unbiased reviews for a list of CRM tools in the market.
Learn from customer stories to see how similar business owners are leveraging CRM to grow their business.
Many online blogs, as well as Youtube videos also include reviews of different CRM tools.
2.   You're too busy and got no time to evaluate
Has your business reached the point in which there are not enough hours in the day, and manual processes are keeping you at work to all hours of the night?  If your answer is YES, you absolutely need a CRM.
A CRM offers task and process automation and helps simplify workflows. You can free up your team to focus around driving sales, improving customer retention, and strategically impacting growth.
What can you do?
Reviewing and planning are critical processes for a business to sustain and grow. If you have no time for research, let our consultants help you with professional advice after hearing about your case.
3.   You're not sure what your problems are
Many business owners are not able to identify what's their current challenges, and what is needed to fix them. Jumping into evaluation without knowing the existing problems in advance is costly to the business, wasting time and risking revenue.
What can you do?
Review your current business. Check at which stage in the sales process you are losing potential customers. Where are your roadblocks in terms of sales, growth, or customer retention?
Then, spend time to investigate what you need to do to overcome them. In this way, you will find the technology solutions to your problems (and key to your revenue growth).
4.   Bottom up vs Top down
Change management is key. Because change is inherently unsettling for employees at all levels of the company, when it is on the horizon, all eyes will turn to the CEO and the leadership team for strength, support, and direction. Unsuccessful cases are when senior management does not use the system effectively to drive transformation.
What can you do?
Lead from the top and the bottom will follow. If you want to SEE the change, BE the change.
As the leader, you must embrace the new approaches first, both to challenge and to motivate others in the team. Top management must speak with one voice and actively generate excitement about what the system can deliver to the business, that buzz – and those essential learnings – will definitely impact positive change.
5.   You underestimate the role of a Solution Consultant
It's common that business owners have their own plans how they want the solution to be implemented, and will allocate a manager to research and evaluate for it. This is not necessarily a bad thing. But they often don't possess the understanding or insights into key business challenges. Some are cagey about providing the solution consultant with key information necessary to building a great solution.
What can you do?
Be transparent and open to solution consulting services. With their expertise, they provide a wealth of knowledge and experience about what similar businesses have done – what worked and what didn't.
Leveraging this resource properly is a key part of the evaluation and solution building process, delivering a highly customised solution – one that is far more effective than one settled upon by your management with no external input.
So, it's wise to work with your consultant – be open, take a step back and listen, because collaboration is key to a system that is truly customised for your business needs.
Follow one, two or all of these tips, and you will get a clearer picture of what you need. Meanwhile, let our consultants understand and help. With the right commitment of your time and resource, you can unlock the next phase of growth for your business.