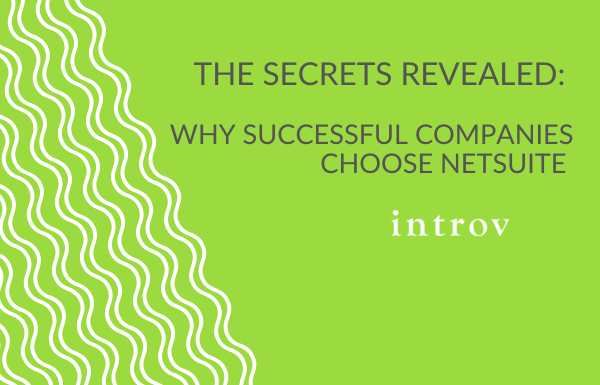 Why Successful and Growing Companies/Startups Choose Oracle NetSuite
Entrepreneurs go through four phases with their business: starting, growing, competing, and adapting. Periods of rapid economic and societal change often provide the spark for new ideas or ways of working during these phases. With new business models emerging, the accelerating adoption of technology, changes to buying behaviour and shifting consumer demands, now's the time for entrepreneurs to look at their businesses and decide to start, grow, compete or adapt.
And with thousands consultations and successful implementations, Introv x NetSuite have a deep understanding of businesses in all industries and the many challenges they face.
In a study by SL Associates, companies reported stunning improvements in key performance metrics after switching to NetSuite's cloud-based solution.
| | |
| --- | --- |
| Actionable Business Insights | up + 50% ✅ |
| Order Processing Efficiency | up + 45% ✅ |
| Finance Staff Productivity | up + 20% ✅ |
| Finance Close Time | reduce – 40% 🔻 |
| Compliance Support Time | reduce – 25% 🔻 |
| IT Support Resources | reduce – 45% 🔻 |
Eight Benefits of Cloud-Based ERP/Business Systems
Ease of access at anytime, and from anywhere: Employees have become very comfortable using smartphones and tablets instead of computers to complete many tasks. NetSuite Cloud ERP makes it easy to grow your business and support remote workers and locations, or support a highly mobile sales or service team, because people can access the cloud any time, day or night, from any browser, desktop or mobile device around the globe, 24×7.
Low overhead: For business owners and leaders, the most convincing reason to buy an ERP system is that it lowers overall costs, often in a big way. Upgrades, maintenance and system administration take place in the cloud and are managed by the vendor, so you don't have to spend nights or weekends supervising a new version upgrade or a failed server.
High availability: Just about every business is competing with other businesses for the same customers. Cloud software architectures are designed from the ground up for maximum network performance, so they frequently deliver better application-level availability than conventional, on-premise solutions. For example, NetSuite commits to 99.5% availability for its customers, and provides data security such as PCI DSS compliance that would be cost prohibitive to achieve with on-premise software.
Security: The fact that all this data is in one place, rather than spread across multiple systems with varying levels of security, increases the level of protection. And, for many companies, the level of security and availability, disaster recovery and back-up provided by a software-as-a-service (SaaS) provider far exceeds that they can provide themselves.
Fast deployment: You can be up and running with ERP, CRM or ecommerce applications, on a local or global scale, within a few months, rather than the six to 12 months it would take to install and troubleshoot conventional servers and software.
Optimised performance: The cloud adjusts to your performance needs, dynamically assigning server cycles whenever and wherever you need them, and automatically adjusting to spikes in your business.
Subscription-based pricing: You pay as you go, often on an annual basis, unlike conventional systems where you have to make a major up-front investment in licenses, hardware and software. You benefit from better cash flow and far greater IT flexibility.
Energy savings: By eliminating the need for on-premise hardware, cloud computing reduces overall server room electric consumption as well.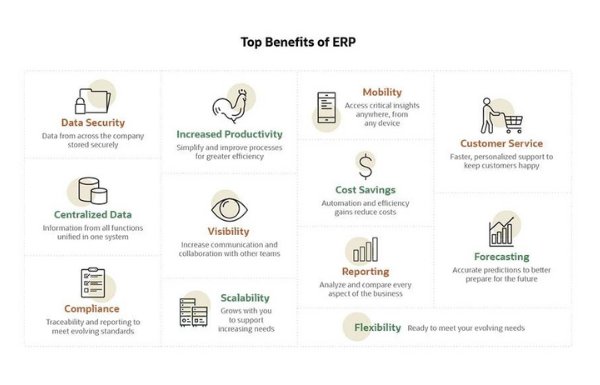 Best value software for business of all sizes
Are you ready to turbo-charge your business? No more juggling of separate software applications and wasting time and resources customizing, maintaining and upgrading a hairball of software applications. NetSuite helps you manage your business end-to-end with one integrated business suite for all your core business processes including ERP, CRM, POS, etc for growth and sustainability.
Get in touch with us now. Let us listen to your pain points and we will design the best system for you to grow your business.

Source:Oracle NetSuite
中文版本:成千上萬的企業已從企業預置型向雲端ERP轉換 揭您所不知道的企業成功運營秘密
Related articles:
Cloud ERP comparison: Oracle NetSuite VS SAP Features, Pricing and Support
Retail/Food and Beverage/Wholesale Hybrid Solutions: Features in mobile ERP applications
Omnichannel strategies: Embracing the E-commerce Revolution in Taiwan, Hong Kong and the Pacific