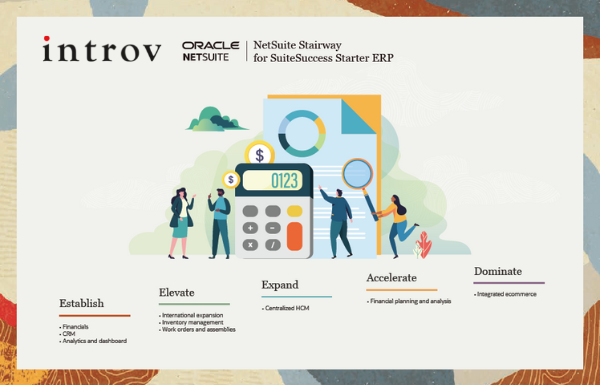 6-10 Weeks to Implement! NetSuite SuiteSuccess Agile Starter ERP Edition Introduction
NetSuite SuiteSuccess is an out-of-the-box methodology to get businesses running on cloud ERP in an enticing 6-10 weeks.
What is NetSuite SuiteSuccess?
NetSuite SuiteSuccess is one unified cloud system which covers all core functions that a business needs.
What business leaders usually need is a proven solution that can rapidly accelerate the business with a modern architecture to go from zero to cloud in weeks. What they need is NetSuite SuiteSuccess.
NetSuite SuiteSuccess is a pre-configured industry cloud solution, built on industry-leading practices, that combines deep domain knowledge with pre-built workflows, KPIs and dashboards.
Features:
To ensure complete integration of sales, product, delivery and services teams.
With SuiteSuccess, it changed the way people work as a company, and how business manages the relationship.
Having different delivery methodologies for each industry by market segment Starter, Emerging, Midmarket and Corporate.
SuiteSuccess Starter Edition
Finance and Accounting
Finance and accounting are at the core of every business process. Learn how our integrated suite can streamline and automate your finance and accounting functions while scaling with your organization.
Lead to Estimate
Follow NetSuite through the creation of a lead through the seamless process of creating an estimate for a prospect. NetSuite's integrated suite streamlines your Lead to Estimate process while helping your organisation gain complete visibility without duplication of effort.
Order to Cash
NetSuite is designed and developed to facilitate seamless order entry. Learn how NetSuite can scale with your organization while enabling efficient order entry, item fulfillment, and invoice processing all within an integrated suite.
Procure to Pay
Learn more about the procure to pay process in NetSuite and how it can help automate and streamline your procurement process all while providing visibility, efficiency, and effective purchasing controls in your organization.
Item Management
Learn about the item management process in NetSuite and how it can help automate your warehouse management process all while providing visibility and effective internal controls over your procurement and sales processes.

Benefits
Business visibility
360° visibility and actionable insights increased 55% to 80%
Reporting time and resources reduced 40% to 55%
Financial management
Time to close financial books reduced 45% to 70%
Audit completion and support time reduced 25% to 40%
IT management and resources
IT support costs reduced 40% to 65%
Business continuity costs reduced 45% to 65%
Interested to know more details on SuiteSuccess? Download the SuiteSuccess Whitepaper now by filling below form and our team will be more than happy to connect with you soon to share more relevant information on replacing or having a new ERP system rapidly.
Source: NetSuite
中文版:
獲高度評價!最快10星期上線 Oracle NetSuite ERP雲端配置企業版SuiteSuccess模組功能介紹
Please fill out the form below to receive the download link