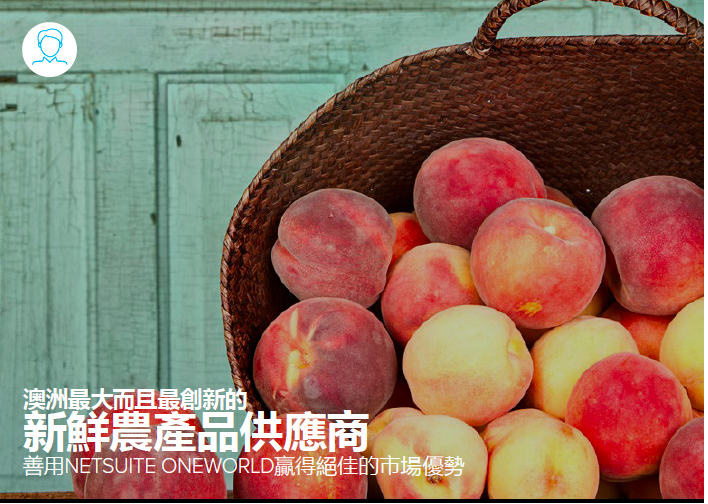 Fresh Produce Group from Australia needed a technology refresh. The DOS-based financial system and Excel spreadsheets managing operations didn't grant the visibility needed into a growing business network for the produce supplier that spanned California farms, Sydney restaurants and Hong Kong supermarkets. Manual forecasting and inventory management processes were time-consuming and error prone. Hours were lost every week locating pallets on the warehouse floor, and perishable produce was often wasted.
INDUSTRY: Wholesale distribution
NUMBER OF USERS: 200
SYSTEMS REPLACED: DOS-based financial system, Excel spreadsheets
"NetSuite's cost, ease of use and simple customization make it the best ERP choice for us right now, compared to other products like SAP and Salesforce.com." – Fresh Produce Group
Real-time visibility, increased efficiency
Increased efficiencies have saved Fresh Produce $1 million annually, as everyone from forklift drivers to the finance team can work smarter. Complete, real-time visibility of inventory saves hours each week locating stock pallets and improves on-time delivery of perishable produce.
Want to know more on its digital transformation by Oracle NetSuite cloud ERP? Fill the form below and download the white paper to unlock all you need to know now to expedite your success.
中文版本: 澳洲傳統農產業Fresh Produce Group 透過ERP系統達到創新
Help startups, small businesses and midsize enterprises transform their routine tasks with sustainable solutions
NetSuite ERP is a game changer regarding its intelligent ERP. By leveraging advances in technology like artificial intelligence (AI) and predictive analytics, its statistical algorithms help businesses of all sizes and in all industries to be scalable, responsive, predictive, and adaptable to organizational growth. By deploying NetSuite OneWorld, the unified global business management platform, financials, inventory management, CRM and marketing, as well as multi-subsidiary and multi-currency management for the Hong Kong, Australian and U.S. dollars, Chinese renminbi, British pound, Japanese yen, New Taiwan dollar and the Euro can all be managed at the click of a button. Without significant upfront investments in hardware or staffing (from IT or other departments), businesses are able to gain business efficiency, grow revenues, expand globally and enter new markets efficiency.
Source: Oracle NetSuite
If you are leading a growing business, and are concerned that the pain and complexity imposed by an application hairball that is limiting your business, download below white paper which demonstrates benefits with system demo sample from implementing NetSuite ERP/CRM application.
Or get in touch with us now. Let us listen to your pain points and we will design the best system for you to grow your business.
Related articles:
Cloud ERP financials and accounting software for modern companies
White paper: How business uses NetSuite OneWorld to facilitate fast and efficient expansion into new global markets
Please fill out the form below to receive the download link