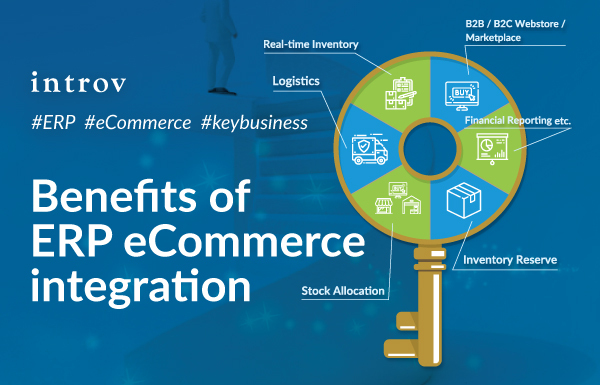 Effective ERP and Ecommerce integration means ensuring your online retail business is taking advantage of every aspect of your enterprise resource planning (ERP) tools. Your ERP gathers a range of digital information about your business, from finances to inventory management. This data could provide insights that boost sales or drive marketing campaigns.
Passing information between your frontend eCommerce and backend ERP software is absolutely necessary. It provides a seamless user experience, eliminates human error, and helps you scale.
The top benefits of ERP integration include:
1. Reduce manual entry to save time and increase output while reducing errors, when entering order, inventory, item, customer and shipping data.
2. Streamline inventory synchronization, track updates, and provide accurate inventory levels to customers, without hiring staff to manage these tasks.

3. Automatic notifications for customers when orders have been shipped and allow them to track the delivery of products.

4. Simplify how you manage price and product changes to inventory.

5. The flexibility to add multiple online (web stores and marketplaces) and offline (brick & mortar) sales channels, without losing operational efficiency.

6. Handle increased demand in online orders without the need to add extra resources to cater for it!
With an end-to-end solution and a single trade cloud platform that combines electronic commerce, Pos and order management with back-office systems. Oracle NetSuite offers retailers the ability to meet these expectations. Whether you are a multi-channel, brand, or business model retailer that sells across multiple regions and countries. Oracle NetSuite for Retail/e-Commerce allows you to manage your whole business unified by a single cloud system, everywhere and anytime.
To succeed, all you need is a great business management tool – Introv x Oracle NetSuite ERP with an eCommerce platform to integrate your offline store with your online presence (online merge offline, OMO), optimise your inventory and supply chain management with both online & offline sales orders, get a 360-degree view of your customers, and provide real-time visibility in your business operations. This unifies the data across your internal teams, as well as what is disseminated to shoppers via the website and emails. Shoppers can obtain a consistent and personalised shopping experience in all channels.

Sources: Oracle NetSuite