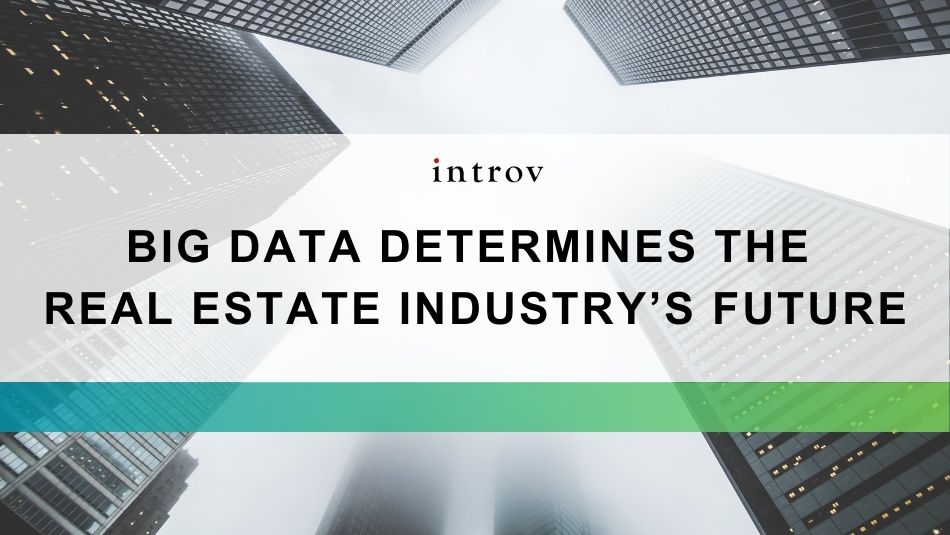 Between technology and the increasing requirements of users and owners, personal and building-related data will accumulate on a large scale. Those who can use this data in a profitable way will be well-positioned for future success.
The near future
As networking technology continues to advance, it's likely to create increasing amounts of data around buildings, their use, and their users. At the same time, opportunities to derive practical knowledge and from this data are on the rise. If it's possible to systematically compile and analyze data from all relevant aspects, then entirely new applications for operating, leasing, financing, and purchasing real estate will come into being.
In addition to declining demand for space and emerging user requirements for technical infrastructure, data produced on the property – as a potential additional source of income – will be a driving force for adapting existing spaces to modern needs.
New competitors
Real estate is already an enormous source of data today, and it stands to become even more so in the years ahead. This holds both risks and opportunities. Potential competitors from the technology sector may have an advantage due to their existing business models for the profitable use of big data. It's a safe assumption that theywill further refine this capability and gear it toward obtaining and using real estate/user data.
The entry of important actors from outside the industry – a process already underway – can have major effects on the sector's market structure. The market is gradually expanding in the direction of complex, interconnected, high-tech, and automated services. Here, well-financed and technologically-leading generalists that can offer a standardized global service strategy will be in a position to solidify their competitive advantages.
New business models
The opportunity for real estate service providers is that they currently sit at the data source. If done right, they can enjoy a competitive advantage in setting up data-driven services and staying in contact with users, owners, and the property itself. But what would this business model look like?
Most likely, it would focus on combining information at the building, service, and market levels. With the rising prevalence of BIM, along with sensors in systems engineering and in rental spaces, increasing amounts of data will appear. This data will contain insights about the operation, capacity utilization, and condition of the building and the systems installed in the building.
As a result, owners and users will increasingly expect preemptive detection of technical malfunctions. Real estate service providers also will have to guarantee the building's reliability of performance as a minimum requirement. At the service level, providers can bundle a customized service package by means of data analysis. This can be a more effective way to look after real estate users and owners. It can also be a more efficient way to arrange service delivery (versus customized maintenance intervals and optimized route planning).
In general, providers will have to determine who uses what, and how, in a way that serves users and owners while shoring up the competitive position of today's real estate managers. In addition to cost- and benefit-optimized use of real estate for customers, different operator models can be simulated in detail based on data analysis before a purchase decision, with crucial parameters related to financing and marketing as part of the analysis.
In the future, with the complete networking of property, it may be possible to carry out technical due diligence reviews semi-automatically since the technical history and the current condition of the components can be generated automatically via BIM. Reviews from technicians, lawyers, and advisors – not to mention uncertainty on the parts of both buyers and sellers – can be reduced to a minimum, with real estate service providers potentially taking up some of the effort directly.
A strategic partner to owner and users
Real estate service providers – the ones who deliver user-centric services and defect-free buildings – are looking after satisfied customers. They can use insights from their data to help their actual customers, the real estate owners. In fact, besides its ability to increase customer satisfaction, lower turnover rates, and reduce cost, a capacity for structured data analysis can help to position providers as a strategic partner in optimizing and stabilizing returns.
This kind of partnership is essential to tomorrow's real estate service providers. Along with owners and users, they will be responsible for the quality and effectiveness of technology and strategic concepts. This means a higher bar for performance but also an opportunity to improve margins. It's likely that performance-based remuneration for services will become an option.
At Introv, we offer an award-winning scalable Cloud property leasing management solution that unify your entire business. From lowing the overall cost of running a business, reducing mundane processes and systems, aiding better decision making to improving data accuracy and project planning – we have the property leasing management system of your dreams.
Our Solutions :
Increase operational efficiency by centralising all data and workflows
Reducing paper-handling time & duplicate data entry while tenant satisfaction can be guaranteed
Real-time visibility and traceability, such as allowing leases tracking & occupation in an efficient way to reduce operational cost
Better collaboration and communication between landlords and tenants by avoiding misunderstandings and disputes down the road
Make better decisions faster. With all property lease related information in one place, you can more easily compare different options and make decisions in your business's best interest
Better budgeting and cost management. By tracking your expenses and being mindful of how much you're spending, you can keep your costs under control and save money
Sources: Deloitte