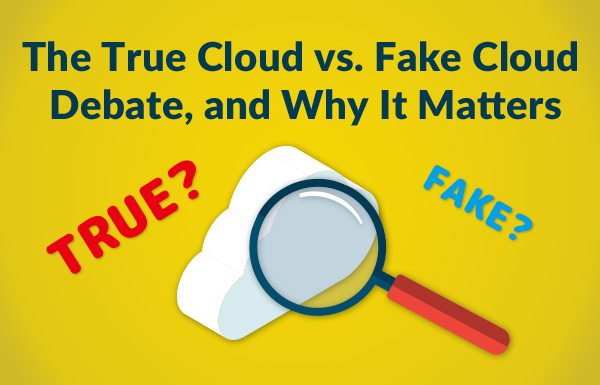 True Cloud vs. Fake Cloud
2019 promises many helpful solutions to your business challenges. Chief among these is "The Cloud." With it, you'll be able to transition many of your key business functions off-site. Within "The Cloud," industry leaders divide the suite of options into "True" and "Fake" Cloud Solutions.
It's worth noting at the outset that several on-premise vendors appear to have "cloud-washed" their applications; not all software marketed as "cloud" solutions are true cloud solutions.
 So how can you know if the solution you are considering is a "true" cloud solution? And why is choosing a "true" solution so important?
What exactly are True Cloud Solutions?
True Cloud Solutions are solutions which have been coded exclusively for cloud use. They are run across many servers and benefit from multi-tenancy. And they offer continuous and easy access to upgrades.
Multi-tenancy matters, despite fake cloud vendors telling you otherwise. With a true cloud provider, all customers typically access the same solution from the same cloud. This gives customers continuous and instantaneous access to the latest product upgrades.
The best cloud vendors provide a customisation platform that allows you to not only customise your application on their platform, but ensure that all of your customisations continue to work when a new product enhancement is rolled out by the vendor.
Why does this matter? It ensures that you get the latest functionality without delays. Further, you don't need to constantly re-implement customisations and integrations you previously had in place every time a new product version comes out.
In Introv's experience, we've found that NetSuite Cloud ERP offers peak scalability and agility and is therefore an excellent example of a True Cloud Solution.
Fake Cloud Solutions – what are they?
Many business systems being marketed as "cloud-run" were originally designed as on-premise solutions. Introv has observed how vendors attempt to "transfer" desktop native software to the cloud. These vendors then hand over responsibility to a local value-added reseller (VAR) instead of hosting, managing or otherwise maintaining their own proposed "cloud" solutions.
If you've been in this business as long as we have, you'll undoubtedly recall how application service providers (ASPs) did something similar 20 years back. The result? They're no longer around!
Why True Cloud Solutions Are the Way to Go
Fake cloud solutions are harder to scale, generally inefficient and come at a greater cost:
#1 Product upgrades:
If your on-premise solution is hosted elsewhere, you're at the mercy of your vendor's roll-out schedule and subject to their upgrade fees. Enhancements, patches and upgrades can be time-consuming and often require your solution provider to plan and schedule each upgrade with you. And you may have to hire expensive consultants to make a change to your application. Finally, by the time you're fully updated, another version might be just around the corner.
In contrast, true cloud providers:
Roll-out continuous, transparent and efficient upgrades, patches and enhancements.
Transfer your customisations to new versions automatically.
#2 Agility & Scalability:
If you adopt fake cloud solutions while being uncertain as to capacity, you'll likely overbuy software licenses to ensure you're not caught short. Or, you'll have an under-provision. You won't be able to live up to your customer SLAs because you "failed" to plan ahead.
With a true cloud solution:
You can always scale your system up or down according to your business needs.
Your business doesn't have to worry about installing more servers and configuring more networks in order to function through peaks and troughs.
You can easily expand your system and mobilise your workforce across any number of locations as your company grows – your true cloud system can handle rapid change.
Your business will be more agile than the competition.
#3 Integration/Customisation:
Integrating a fake cloud solution with your other on-premise and/or cloud applications can be an expensive hassle. It can also result in instability because the on-premise product was not initially built for hosting and therefore not optimized for integration while being hosted. You'll likely have to pay extra to customise the solution and have to wait for a systems engineer at the hosting firm to do it for you.
With true cloud solutions:
You can smoothly implement, self-manage and maintain healthy operations.
You're free of compatibility issues when customising and configuring.
You can manage, configure, customise, and maintain cloud applications immediately without outside assistance.
#4 Reliability:
Too much downtime, inadequate support and unreliable security are to be expected when working with fake cloud solutions. The majority of service providers and VARs do not have the headcount or resource capacity to achieve true cloud levels of security, privacy and uptime.
If you still want a fake cloud solution, be careful to inquire about uptime performance as well as contractual uptime guarantees. You'll also need to check that they have the latest security and privacy certifications – ideally PCI-DSS, EU Safe Harbor, and SSAE 16 (SOC1) Type II audits.
Or, you can make things easier for yourself with true cloud solutions:
True cloud solutions offer you more reliable, secure, and speedy access to your systems anytime, anywhere.
True cloud solutions are designed and built to give you and your team fast performing and data secure web access.
True cloud solutions vendors' success is tied directly to you. If a true cloud solution vendor fails you, their business will fail as well. For this reason, true cloud solutions vendors have the best IT operations teams available.
Conclusion
At Introv, we work with you to ensure your organisation's agile scalability. We also help you avoid having to recreate legacy systems.
Check out here how various well-known brands achieved business growth with Cloud CRM and ERP solutions.
We hope that the above information helps steer you to True Cloud Solutions – and we're more than happy to speak with you about your options in this regard.