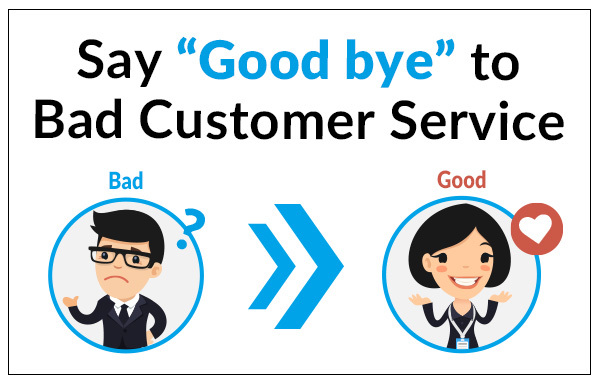 The Fourth Industrial Revolution has redefined customers' expectations to the point that 80% of them now consider their experience with a company to be as important as its products. The implications on the world of customer service is unprecedented.
Providing good customer experience is the key to building your business. Industry research shows that an average of four out of five customers who receive excellent service will return. And this improves your bottom line.
But what if you've been losing customers. Could it be due to your customer experience? What other impacts could bad customer service have on your company?
BAD CUSTOMER SERVICE: THE NEGATIVE IMPACTS
1. A decrease in lead conversions and increase in costs of attracting new customers.
2. A drop in customer lifetime value and damage to your company's reputation.
Businesses strive to offer superior customer service. So what separates those that succeed from those that fail?
Over the years, Introv has identified the following 4 root causes of bad customer service:
BAD CUSTOMER SERVICE: THE "WHYs"
1. Being unreachable or unhelpful: Delayed email replies, unanswered chat windows, unanswered calls… these can all lead to the perception that you can't be reached. Slow responses and an inability to resolve an issue does more harm than good.
2. Lacking a personal touch: Are your customer service agents relying on scripts? Can they immediately recognise a customer who's been with your company for years?
3. Ignoring social media: Word-of-mouth can spread like wildfire. Customers are likely to broadcast their frustrations with your company on social media. Not monitoring this space means you're not addressing issues.
4. Not fostering teamwork: Customer Service needs to have a teamwork relationship with other specialists and departments. Without this, it'll take longer for issues to be resolved.
So how can Introv help you avoid the 4 root causes of bad customer service?
EXCELLENT CUSTOMER SERVICE: The "HOWs"
Introv helps you leverage innovative technology platforms to boost your customer service 3Rs: Responsibility, Respect and Resolutions.
1. Track and streamline case management
We help you track your customer enquiries in a single centralised CRM platform. This allows anyone from your CS team to quickly access detailed customer records to respond promptly to enquiries, minimising customer wait times.
Resolve cases faster with easy visibility into the full context of all cases and a record of every customer interaction — all on a streamlined dashboard.
2. Personalise self-service options and automate common requests
You can set up self-service options to streamline enquiry processes. Personalise self-service options and automate common customer requests to ensure ensure timely and proactive resolutions.
3. Automate workflow for operation and service teams
With a powerful customer service management platform, you can customise and automate any customer service processes or approval process with drag-and-drop simplicity using workflow features. This ensures efficient team collaboration, such that human error is minimised during the entire process of every follow-up.
4. Be reachable in the channels your customers prefer
It is important to allow your customers to send enquiries to you across different channels. Customer Service Research from Salesforce in 2019 shows that 66% of teams are seeing increased in digital case volume, with major growth in mobile apps, videos, and voice-activated assistants.
Besides traditional hotline and help desks, marketing automation platforms allow you to offer personalised customer communication across social media, mobile apps and instant messaging platform like WhatsApp and WeChat, allowing truly interactive communications. Monitor and respond faster to customer posts on social media channels like Facebook, Instagram, and others.
Integrate and track in real time every customer engagement and conversation from different channels, and by different CS representatives. Make them feel every touch is personalised.
5. Meet customer expectations with the help of insights from data analytics
CRM/ERP solutions allow your team to track and analyse your customer's history, needs and detailed records. In addition to these up-to-the-minute personalised shopping journeys, your team can view online and in-store browsing and purchasing records. The systematic data, together with data analytics tools, helps you forecast customer needs and sales trends. And this forecasting allows you to further personalise your customer journeys and meet their needs.
6. Get 100% stock visibility
Our technology gives you 100% stock visibility. By incorporating omnichannel order management best practices, your customer no longer has to face availability-related disappointments at checkout.
Conclusion
You CAN continue to win customers' hearts and minds.
You CAN create enduring loyalty.
Our customer engagement solutions provide a 360-degree view of your customers. This view lets you create personalised customer journeys for each customer along different stages of their customer lifecycle. And that leads to happy customers.
Not convinced? Contact INTROV today, and see how our innovative solutions can help you become a customer service power house.
Read more: How Data Quality Matters to Your CRM's Success
Read more: SMB Guide for Retail: 5 Common Marketing Mistakes & How To Remedy Them