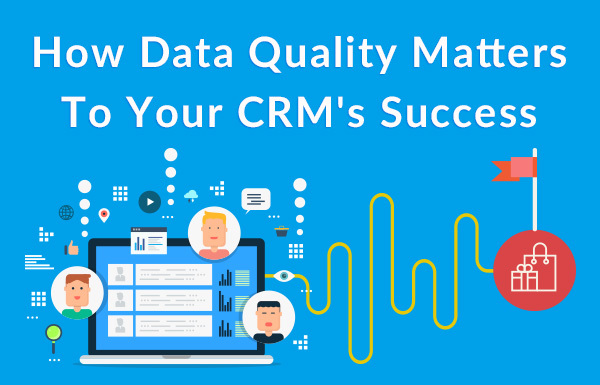 As competition continues to increase, more and more organisations are considering how they can optimize Customer Relations Management ("CRM") to be more strategic in attracting and retaining customers.
A key component of an optimized CRM strategy is how well your organisation obtains and uses high quality, clean and trusted data.
Incomplete Data Restrains Customer Experience
Segmentation and Nurturing
Different customer segments have different needs and different touch points along their respective customer journeys. And when you don't have enough data, or your data is faulty, you can't meaningfully segment your customers.
It's even worse is when dirty data causes inaccurate segmentation. What happens if, for example, you are driving customers away through incorrectly targeted promotions? Perhaps you only realised it once you have started interacting with your customers, and they are just quietly unsubscribing, to be forever lost.
Discrepancies in data will result in providing poor customer experience. Customers can become frustrated when customer service team members are unable to find their records or information prior interactions which can be caused by data inaccuracies, duplicates & missing information.
Don't let that happen. Don't lose your chances to grow your customer relationships. Don't squander your upsell/cross-sell opportunities.
Data quality enhancement can help in optimal segmentation and thus aid targeted marketing. It is becoming increasingly essential to develop a single view of your customers and build reliable segments so as to enable the personalised content creation and provide a profound brand experience to the customer.
Thus the impact of data quality on lead nurturing is significant, and to achieve sales qualified leads, data cleansing, verification and validation are of great significance.
Dirty Data Costs a Waste to Marketing and Sales Resources
Bad data can result in resources getting wasted which includes money and efforts wasted on marketing, on email communications and direct mail. You are just not delivering what your customers want to hear, despite continuous efforts creating beautiful-looking emails and graphics.
It becomes another nightmare when your team is spending much time validating the information while they should be actually focusing their time on what matters the most – sales or providing excellent customer service.
Business Analytics are Compromised without Accurate Data
Also, without accurate data, it becomes impossible to develop actionable insights. The business value you glean from your analytics is only as reliable as the data feeding your dashboards.
Why? Because these dashboards cover operations, planning, projections, and – ultimately – your bottom line.
The Importance of Data Accuracy
Data errors impact operations by incurring higher costs resulting in lost revenue (e.g., when a package is shipped to the wrong address).
What's worse, bad data can lead to inaccurate regulatory reporting.
And that can result in fines from regulations such as CCAR, BCBS239, and in the near future, GDPR.
Final Thoughts
Obtaining high data quality requires not only achieving completeness of data sets but also requires proficient data cleansing, verification and validation. Effective data management essentially provides accurate insights of past interactions of prospects with a brand thus it not only helps in choosing the right channel of communication to reach your prospects but also aids in lead nurturing through personalised engagement.
In short, setting up an effective data management strategy can help provide a better brand experience to the customer.
Contact us today so we can discuss how to integrate an effective data management into your successful CRM strategy.
Read more on CRM strategy:
SMB's B2B Marketing Kit: 7 Tips to Optimise Your Lead Generation & Nurturing