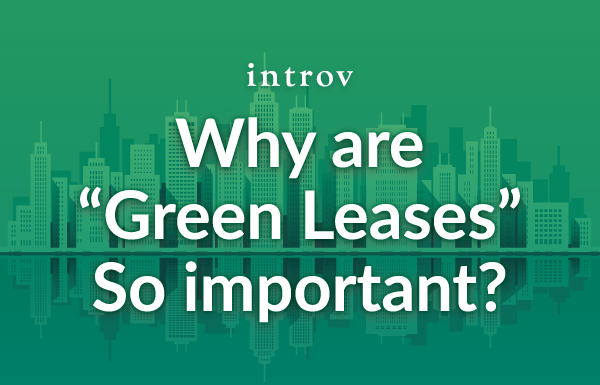 ​​In the pursuit of ESG targets, businesses and governments around the world are committing to ambitious decarbonization goals. The world has moved beyond using only financial parameters to evaluate company performance, ESG performance of a corporation is regarded as a legitimate concern for investors and regulators alike. For real estate developers, green buildings are the de facto standard to demonstrate the commitment on sustainability and they make business sense. 
With commercial and institutional buildings among the biggest energy consumers, forward-thinking landlords are introducing green leases in a bid to improve the situation.
What is a green lease?
A green lease is like a standard lease but with clauses that realign financial and sustainability objectives between a landlord and tenant. A report by the Institute for Market Transformation estimates that green leases could reduce energy consumption in office buildings by as much as 22%, resulting in significant cost savings.
A green lease can include changes in operational procedures, commitments to building retrofits using sustainable materials and appliances, and utility tracking requirements.
Tenants benefit from green leases with increased communication from their landlords, reduction in energy use and utility costs, and by making progress on their ESG goals. Both sides benefit from increased tracking and reporting of the building's performance.
Implementing a green-lease strategy is not overwhelming, but it must be undertaken through a careful process to assure maximum effectiveness, sustainable success and savings.   
A sustainable work environment fostered by a green lease also helps companies attract and retain valuable employees. Studies show that most young professionals — a key to the growth and ongoing success of most companies — care about the environment, practice at least some green behavior at home and want to see it practiced by their employer. If all other employment factors such as responsibilities, salary and benefits are roughly equal, the corporate sustainability commitment demonstrated by a green lease could put you a step ahead of competitors for attracting the best and brightest employees.
Enhance your corporate/brand image. To realize how important it is to be perceived as an environmental leader in today's marketplace, look at large companies' websites or product packaging. Increasingly, a wide range of stakeholders, including customers, investors, employees, media and governmental officials, care what a company is doing for — or to — the environment. A green lease is a creative way to differentiate your organization as having made a positive commitment not only to the environment, but to the viability of your company. It also yields quantifiable sustainability gains that can be featured in Carbon Disclosure Project responses, sustainability reports and other disclosure mechanisms.
ESG investing is no longer just a trend for the future; it is imperative for Hong Kong-based companies to stay ahead of their competition. Green Leasing ProTech solutions like Introv provided, allowing lease tracing & occupation of property in an efficient way to reduce operational cost. By implementing Property Leasing Management, landlords can better understand the key performance index such as occupancy rate by property, trade mix analysis for retail, Add convenient self-service options. With online portals, tenants can submit requests at any time, without having to come into the office. It also increases transparency, allowing tenants and owners to log in and securely view information that's important to them, help companies adapt different green technologies in new buildings or building renovation plans to optimise energy efficiency and accelerate the development of ESG and digital transformation. 
Get in touch with us today and learn how Introv can help tailor your perfect Green Leasing ProTech solutions.
Source: greenbiz.com / cbre.com / HKGBC